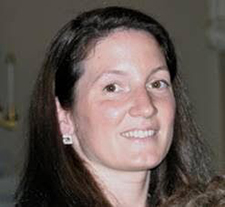 About Maureen: Maureen was born in Framingham, MA on October 10th 1969 to the proud parents of Rachael and John Duffey of Hudson, Massachusetts.  She was the 3rd child in a family of two boys and two girls.  In high school she lettered in gymnastics, track, soccer, and cheerleading and graduated from Hudson High School in 1987.  She went on to Springfield College to become captain of the Gymnastics Team.  She competed at a national level and received many accolades at college as well as being on the Dean's list for her Business major.  She married Mike Russo, her high school sweetheart, in 1993 and had two beautiful children Gabrielle (17) and Domenic (13).  Mike and Maureen were happily and lovingly together for 20 years.  She was diagnosed with cervical cancer in 2003 and was treated at Dana-Farber Cancer Institute.  In remission for almost 3 years, the cancer returned in 2006.  The aggressive form of cervical cancer took its toll on Maureen, despite her endurance and courageous battle for 6 months. She lost her battle to cancer on December 15th, 2006 at the age of 37.  Although battling cancer twice, Maureen never complained and in fact was more concerned for others than herself.  She loved life, and lived it to its fullest (as evidenced by the fact that she had taken her kids to Disney 5 times in 5 years).  She adored her children and was dedicated to all her family members and friends.  She had an infectious laugh and a great sense of humor as well as the warmest and most giving heart.  Maureen displayed courage, perseverance, enthusiasm, dedication, determination, and leadership each day of her all too short life. The quote she selected for her head stone reflected how she lived life.
"It is not how much you do, but how much love you put into the doing that matters."
– Mother Teresa
How I felt: I was scared for her at her initial diagnosis. And then I was devastated at her relapse. It was an awful experience to have to watch someone you love go from being so strong to becoming so weak over 6 months after winning the battle 3 years earlier I
How I offered support: As I am a nurse, it was hard not act as her nurse but just be her sister. I went to her appointments with her and advocated with her doctors. I set up an online helping page. I helped with her kids. But mostly I just loved her!
What still is most difficult for me: I remember watching the suffering. And even at the end of her life, she could not accept that she was dying and leaving her babies. I still find it painful to see that her children have no mother.
What I learned about Maureen through her diagnosis: Maureen was truly one of a kind and she touched many lives when on earth and continues even in heaven.  She had an amazing spirit and strength.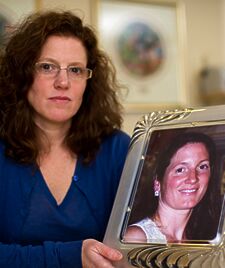 How I keep her memory alive: Maureen asked me to do two things before she died – not to forget her and to take care of her kids. I honor both of those requests. I of course could never forget her and in her honor, I became passionate about cervical cancer awareness and started my nonprofit, Team Maureen.