January is Cervical Cancer Awareness Month
Cervical Cancer Awareness Month (CCAM) was established to help raise awareness about the importance of HPV vaccination, prevention, screening and early detection. At Cervivor we make noise all year, but we seriously crank up our volume in January. We don't just aim for "awareness," we aim to END cervical cancer. We are the voice and face of cervical cancer, and we put ourselves front and center so that the disease cannot be ignored or stigmatized.
This is our month! Let's make some noise! 
This January, let's leverage the power of our voice to ensure that women understand what they need to do to protect themselves. Importantly, let's make sure that they translate that understanding into action: vaccination, screening, and well-woman visits. Working together, we can be generation to end cervical cancer.
CCAM 2021: Ending cervical cancer is within our reach!
We have packed our January 2021 CCAM calendar with meaningful conversations, compelling education and virtual celebrations! Let's make this January our month to shine and showcase how we will #EndCervicalCancer. See our calendar for CCAM 2021: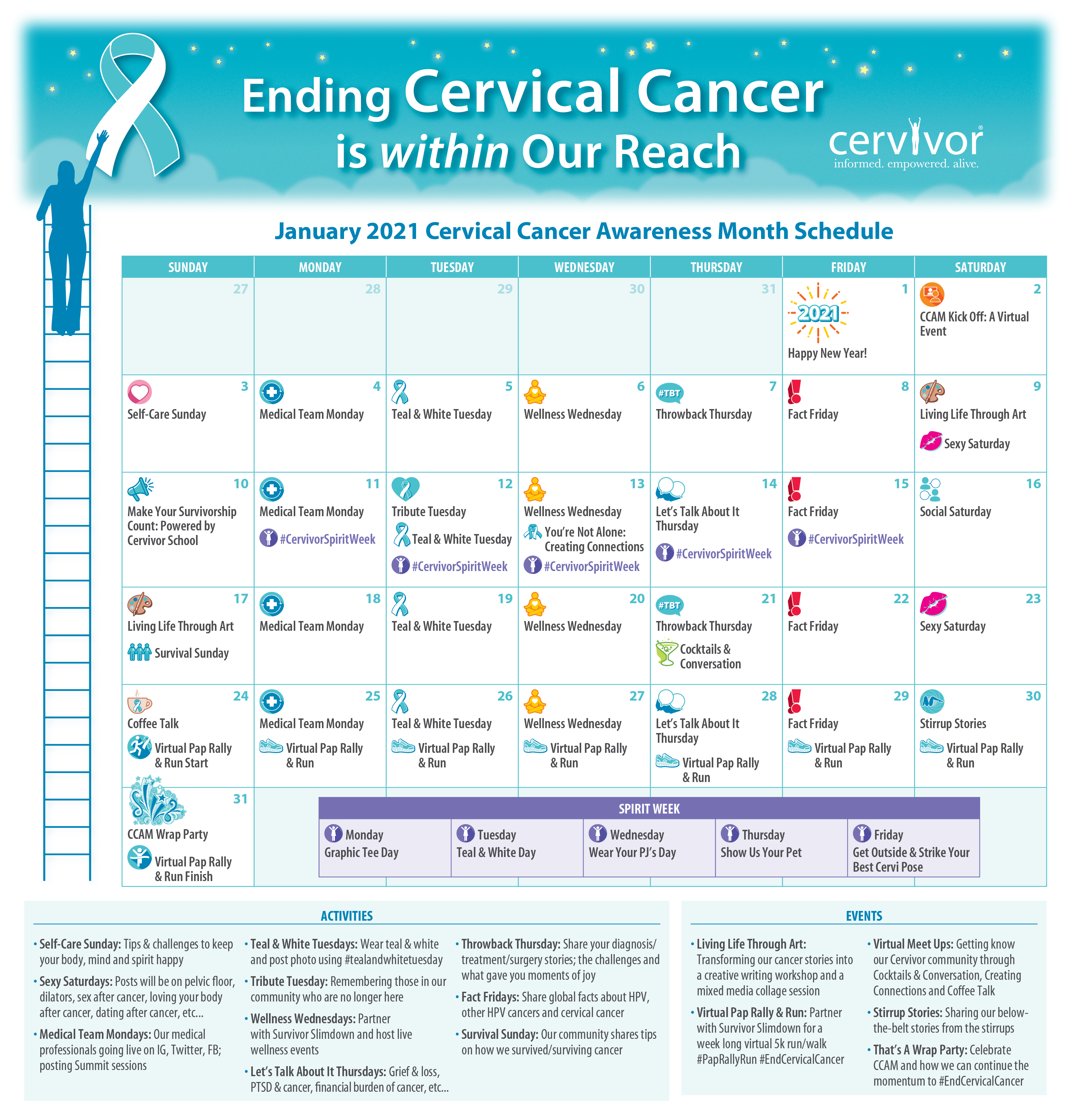 Download calendar as PDF: 2021 CCAM Calendar of Activities
Go to Upcoming Events to register and get the Zoom links for our CCAM programs. 
What Can You Do During CCAM?
Beyond participating in Cervivor's many CCAM activities and virtual events, there are additional opportunities big and small for you to educate and advocate within your own community! You can:
Share on social media (see our "Let's Make Some Noise" social media toolkit)
Participate in any or all of our many CCAM events and activities
Share videos from our Cervivor TV channel
Plan a virtual Meet Up of cervical cancer survivors in your area
Wear a Cervivor t-shirt to kick-start conversations
Organize a "Wear Teal & White Day"
Reach out to local press to encourage them to write about cervical cancer prevention and screening during the month of January, with yourself as the spokesperson
Donate to or fundraise for Cervivor
Hashtags
When you do post on social me, please be sure to use one – or all – of the following hashtags to connect your posts to the larger CCAM conversation:
#Cervivor
#EndCervicalCancer
#CervicalCancerAwareness
#CervicalCancerMonth
#WeAreCervivor
#CCAM
#IamCervivor
#endSTIgma
#StirrupStories
#StrongerTogether
Keep Connected
Keep connected with our activities all month, and all year, long via our Facebook page, our Instagram page, our Twitter feed and our blog.