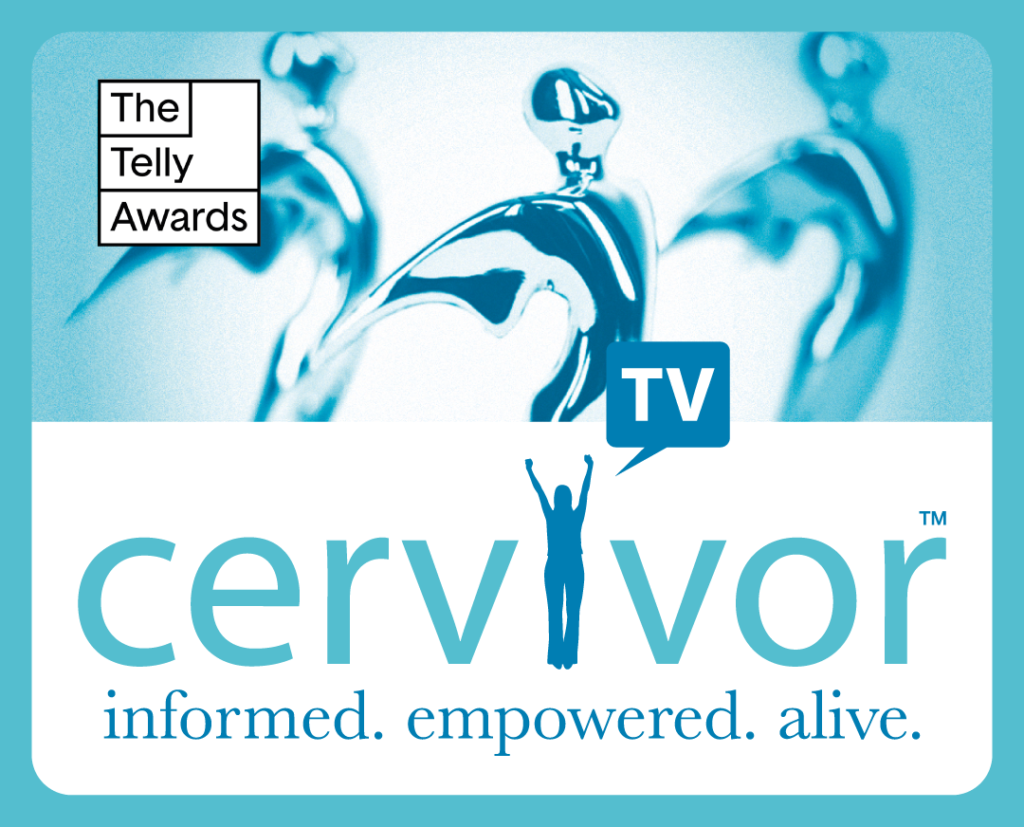 Cervivor, Largest Network of Cervical Cancer Survivors Globally, Wins Three Global Telly Awards
Cervivor Chief Visionary Tamika Felder and Ambassador Carol Lacey Win Among 2,500 Entries
May 31, 2019 – Cervivor, the largest network of Cervical Cancer survivors in the world, announced the receipt of three Telly Awards. The Telly Awards honor excellence in video and television across all screens, and receive up to 12,000 entries from all 50 states and 5 continents. All videos were made in partnership with Tim Hashko, President of Steaming Kettle.
Carol's Cervivor Story is the Gold Telly Winner in Social Video: Health & Wellness: "I've lost everything below my belt," said Carol at the beginning of her video. But despite the removal of everything from her ovaries to her anus (being "sewn up like a Barbie doll" as she explains it), Carol's video is more about the hope that she maintains after being given such a dark diagnosis. You can watch Carol's Cervivor Story here.
Additional Telly Awards given to Cervivor include:
Cervivor School won the Silver Telly Winner in Social Video – Not for Profit: A behind-the-scenes video of Cervivor's trademark advocacy training event, Cervivor School, showed how a group of women came together in Cape Cod, Massachusetts, last year to learn how their own stories can help save lives. You can watch the Cervivor School video here.
Cervivor Tamika Felder won the Bronze Telly Winner in Branded Content – Campaign – Promotional: "I cannot be the only person that has this type of cancer," Tamika remembers questioning after her cervical cancer diagnosis. She discusses wanting to be the next Oprah Winfrey, living with a cancer linked to sexually transmitted infections, and how she built Cervivor to empower women to share their experiences with cervical cancer. You can see this and more in the award-winning video here.
"Winning three Telly Awards for our work on Cervivor is a testament to the brave women in our network that advocate for themselves and others affected by the disease, who are forcing conversation about the ugly nature of this often misunderstood and stigmatized form of women's cancer," said Tamika Felder, Founder and Chief Visionary of Cervivor. "We feel heard – our stories are being validated and celebrated out of the 12,000 entries the Telly Awards receive, which shows that people want to learn about cervical cancer, they just need someone to teach them."
Cervivor School is a networking, educational and motivational event that brings together and mobilizes cervical cancer patients and survivors to become more involved in the cervical cancer awareness and prevention movement. It supports women with training and tools to powerfully tell their stories to a range of audiences – including legislators and policy makers. Cervivor School 2019 will be in Chicago from September 26-28. You can find full details about this year's event here.
The Cervivor storytelling doesn't stop after awards season: Tamika Felder is scheduled to speak at The Atlantic's Cancer Stories on May 31, 2019, from 6:00-8:15pm CT in Chicago. The panelists at Cancer Stories will dive into the dark psychological effects of cancer, complexities of the disease past a fatal diagnosis, and the role media plays in sharing one's cancer stories. You can find full details about the event here.
About Tamika Felder
Tamika Felder is well-versed in media on both sides of the camera: she's provided commentary to national radio shows, worked as a journalist and producer in multiple capacities, and is now in the process of making her own documentary. See this short video on her lifestyle website to see how she's living her second chance, and read more about her experience with cervical cancer on the Cervivor website.
About Cervivor
Cervivor builds a community for cervical cancer survivors, family members, educators and caregivers to advocate for HPV awareness, cervical cancer prevention, to create meaningful networks across survivors and experts in the field; and to ultimately change the future of women's health. To learn more, visit www.t0g.ce7.mywebsitetransfer.com.
About The Telly Awards
The Telly Awards was founded in 1979 to honor excellence in local, regional and cable television commercials with non-broadcast video and television programming added soon after. With the recent evolution and rise of digital video (web series, VR, 360 and beyond), the Telly Awards today also reflects and celebrates this exciting new era of the moving image on and offline. The Telly Awards annually showcases the best work created within television and across video, for all screens. Receiving over 12,000 entries from all 50 states and 5 continents, Telly Award winners represent work from some of the most respected advertising agencies, television stations, production companies and publishers from around the world. To learn more, visit www.tellyawards.com.