WASHINGTON, D.C. – In February 2022, the American Cancer Society announced they would be launching two national roundtables: one for cervical cancer and the other for breast cancer. This was a response to President Biden's call to action in reducing cancer incidence and death rates faster. This initiative is to bring together leading organizations and experts in the cervical and breast cancer space to drive progress and improve the lives of cancer patients, as well as their families.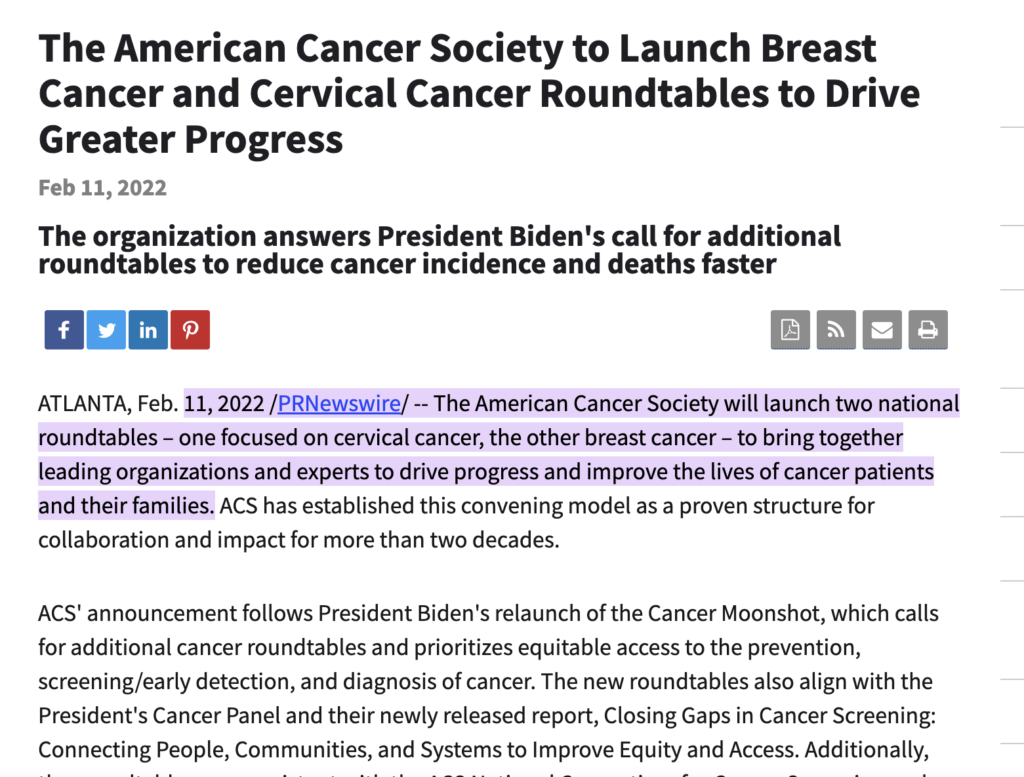 The objectives of the national roundtables align with the President's Cancer Panel's report Closing Gaps in Cancer Screening: Connecting People, Communities, and Systems to Improve Equity and Access.
The report addresses the need to:
Improve and Align Communication: Develop effective communications about cancer screening that reach all populations; and expand and strengthen National Cancer Roundtables that include a focus on cancer screening.

Facilitate Equitable Access: Barriers contribute to lower rates of cancer screening initiation and the recommended follow-up observed among many populations in the United States; there is a need to provide and sustainably fund community-oriented outreach and support services to promote appropriate screening and follow-up care plus increase access to self-sampling for cancer screening.

Strengthen Workforce Collaborations: Team-based care has the potential to improve implementation of cancer screening but in order to accomplish this, supportive policies and a commitment to team-based care approaches are needed which include the empowerment of healthcare team members to support screening plus having the opportunity for training and residency programs; and expanding access to genetic testing and counseling for cancer risk assessments to catch cancer early.

Create effective health IT: Providers and patients alike are faced with more information than they can process in a reasonable amount of time. Health information technology (IT) has potential to help providers, patients, and healthcare systems quickly access and effectively use clinical knowledge and patient-specific data.
Cervivor Founder and Chief Visionary, Tamika Felder was invited to speak on behalf of cervical cancer patient advocates and their families to increase awareness, impact change, and work collectively towards eliminating cervical cancer. Tamika and Cervivor, Inc. have been long-standing influencers on the panel since 2003, helping to provide vision as well as patient stories. She shares, "For me it is personal. My legacy won't be the lives that I bring into this world but the lives I will save."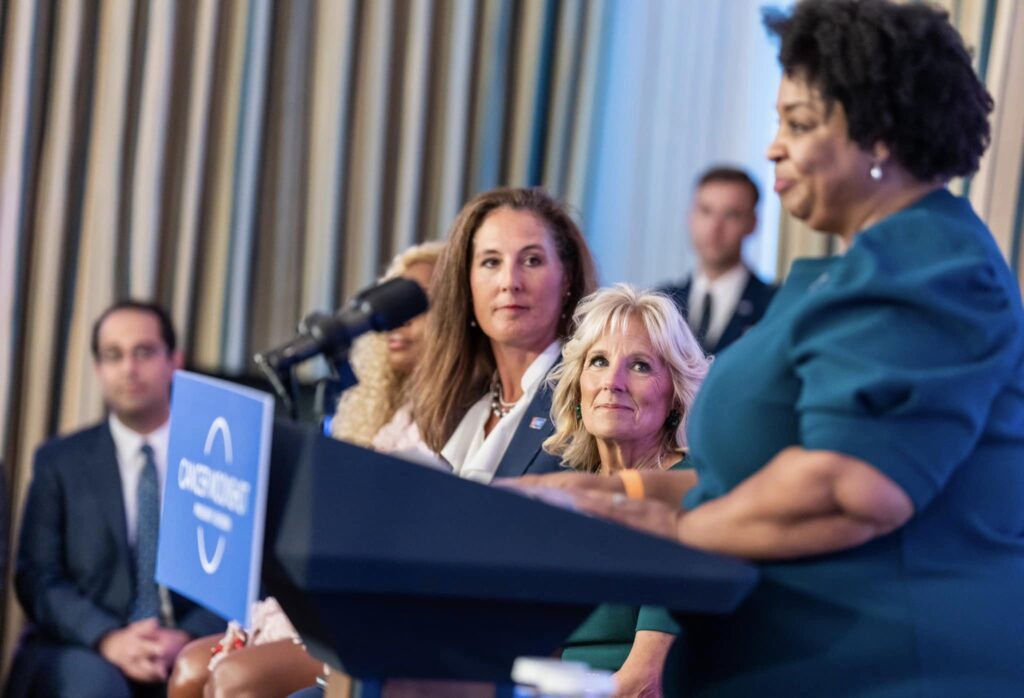 Recording artist and cancer prevention advocate, Mary J. Blige shared the personal impact cancer has had on her family in recent years and why she has dedicated so much time to awareness. She phrases a key message, "I've dedicated time to making people understand their health is their wealth and urging them to make it a priority."
American Cancer Society CEO, Dr. Karen Knudsen states, "We at the American Cancer Society represent all 1.9 million Americans that hear each year that they will have cancer and we are absolutely resonating with the goal of the Cancer Moonshot to end cancer as we know it."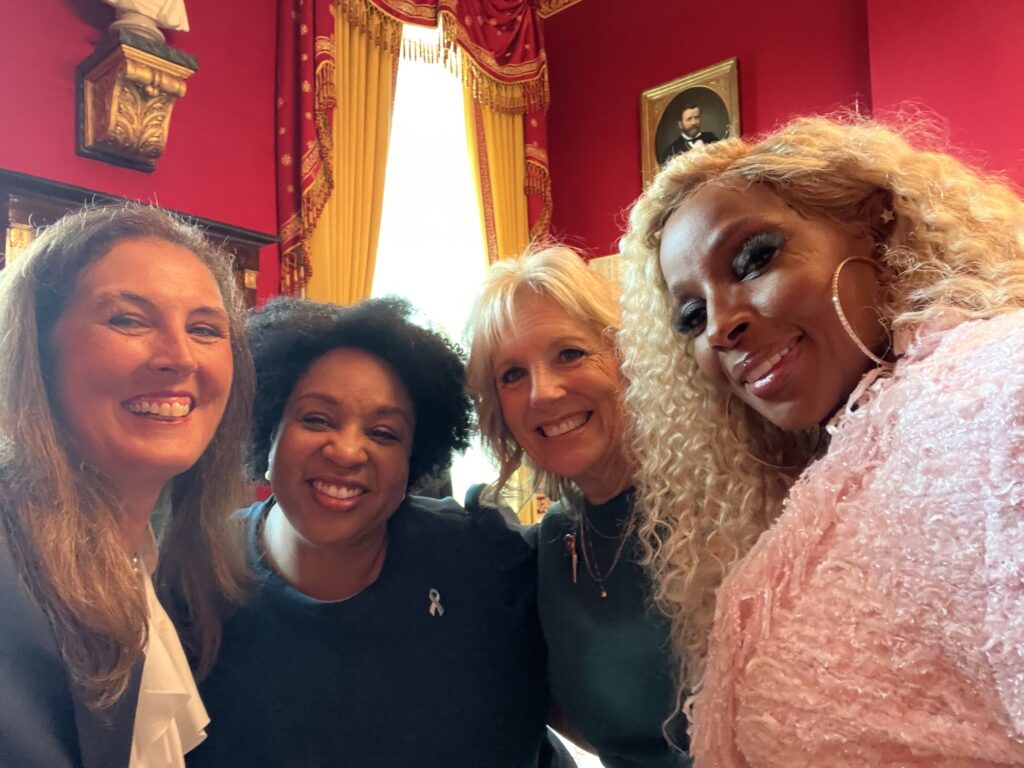 Dr. Knudsen also brings to light that breast cancer still remains to be the second leading cause of cancer death for women in this country and number one for Black and Latina women. 14,000+ women are diagnosed with cervical cancer and over 4,000 will die from the disease. Black and Latina women are again, impacted at nearly twice the rate as their Caucasian peers.
First Lady, Dr. Biden emphasizes there should be no woman left behind. There is an absolute need for collaborative efforts including the patient advocate voice because this impacts us all. The focus is to put patients and their families at the center of their cancer – from diagnosis to survivorship and we are rewriting the narrative of cancer.
"We don't have to be afraid of cancer anymore!"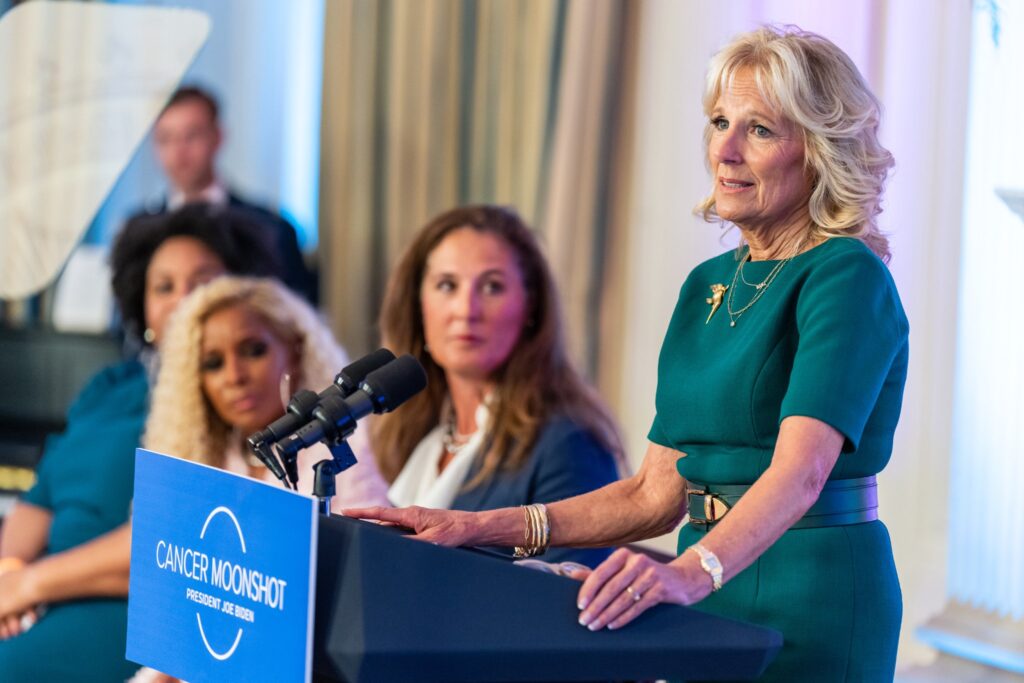 We stand with the First Lady, the American Cancer Society, and so many more leading organizations. We are committed to this mission as we are reminded of the daily impact in our community of a cervical cancer diagnosis, the treatment and difficulties in survivorship, and of those lives that have been lost from a preventable disease.