When Samantha R. stumbled across a study suggesting that hysterectomies may cause memory problems, she clicked, read, and shared on our I'm A Cervivor Facebook group, kickstarting a dynamic discussion. Samantha shares her experience, her relief in finding the article, and the community of support that her post generated:
"Chemo brain gets a lot of discussion and attention, but not the topic of woman who had a hysterectomy or who have early onset menopause and who have similar fogginess. I actually did not have a hysterectomy but rather chemo-rad-brachy (stage 2b), which was oh so fun. As radiation and chemo essentially killed my uterus and ovaries, this study about hysterectomies and memory loss caught my eye and resonated.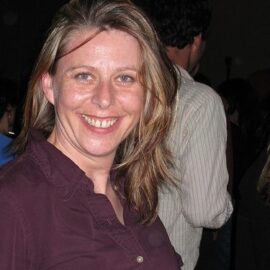 A wildlife ecologist, Samantha was diagnosed with cervical cancer at age 36 while in the midst of her postdoctoral research. The stress of the diagnosis and treatment on top of research and academics were brutal.
"After cancer, I couldn't handle stress like I used to. I used to be able to do the cramming and the crunch time. But after treatment, I had really bad 'chemo brain' for at least a year until it finally started getting better. I still don't feel as sharp as I was before, even though it's been eight years since my diagnosis. As an academic with a master's degree and a PhD, this had been really hard for me because my work, at the end of the day, depended on my brain. And of course brain fog doesn't just impact work, but so many parts of life. My recall is slower. My short-term memory is slower. Things take me longer. It's been hard for me to accept that my brain now functions differently. I used to be quick and make witty remarks. Now three days later, I come up with a response!"
Samantha was poking around online when she stumbled upon the article, New research suggests hysterectomies may cause memory problems.
"It's about a first of its kind study conducted in rats (not humans), but the implications that our uterus plays a role in memory is just really interesting. I found it worth sharing because having an explanation gives women like us validation for having memory loss. It is nice to have some scientific acknowledgement of what we are going through."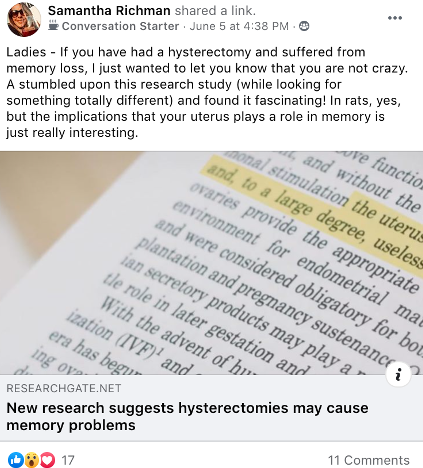 Samantha's Solutions: Coping Skills and Lessons Learned
Samantha now works for the federal government to protect and rebuild habitats for sea birds and sea ducks, specializing in restoration after oil spills. She shares some of the memory loss coping skills that she employs:
Become a note taker: I take a lot of notes. I use a bullet journal. I now have a huge collection of hundreds of notebooks I've filled and it keeps growing, but it's working for me.
Keep a "done" list: Every day I write down not just to do lists, but "done" lists – so I remember that I did something. I capture calls I made, e-mails I sent, discussions and conversations I had. My "done" list is my biggest coping strategy. My short term memory was really impacted from my chemo and the early menopause that resulted, so my journals and my "done" list are my recall mechanism.
Be proactive when it comes to therapy: My therapist has been amazing in coaching me to not beat myself up and to move forward and to be okay with not being okay. I had a hard time being weak – not just physically, but mentally weak. I'm a huge advocate of starting therapy early, when starting treatment, to get ahead of the roller coaster ride. I'd fallen into a severe depression after treatment was over, and I wish I'd started therapy earlier.
Don't be afraid of medication: Medication has helped me battle my depression and panic attacks. My body doesn't create estrogen and progesterone anymore. That makes a person crazy! It is not in your head!
Find your escape: I read a lot to escape. I've started meditating. I also started art therapy and do woodworking and jewelry making. I recently learned how to weld. I'll never forget when I was in treatment and a social worker was trying to talk to me about art therapy and painting. I was like 'screw you, I'm dying here.' But now, years later, art has been my coping mechanism. It has become my sanity. (But I will never tell someone that during treatment! Only after!)
Eight year cancer survivor Samantha is a wildlife ecologist in San Diego, CA. When she is not protecting sea birds and restoring habitat for sea ducks injured by coastal oil spills, she volunteers with Burning Man and has attended the art festival 5 times. Learn more about Samantha's Cervivor Story here.