Dr. Nina Rickenbacker Edwards lost her daughter Teolita to cervical cancer in 2019. Teolita had been an active member of Cervivor and a proactive advocate about cervical cancer. "Whenever or wherever Teolita was given an opportunity to speak, she would use that time to raise awareness about cervical cancer," Nina reports. In honor of her daughter's mission to outreach and educate, Nina shares some lessons and perspectives on caregiving for Caregiver Awareness Month.
My daughter Teolita passed in August 2019 – just a few weeks shy of her 39th birthday. During Teolita's cancer journey, I reflected on the many roles that Teolita said I had played in her life: teacher, preacher, doctor, chastiser but most all, mother and best friend. Later during Teolita's journey, I had to officially add the role of caregiver and provide support and care for my independent, brave and strong adult daughter when her physical health was waning.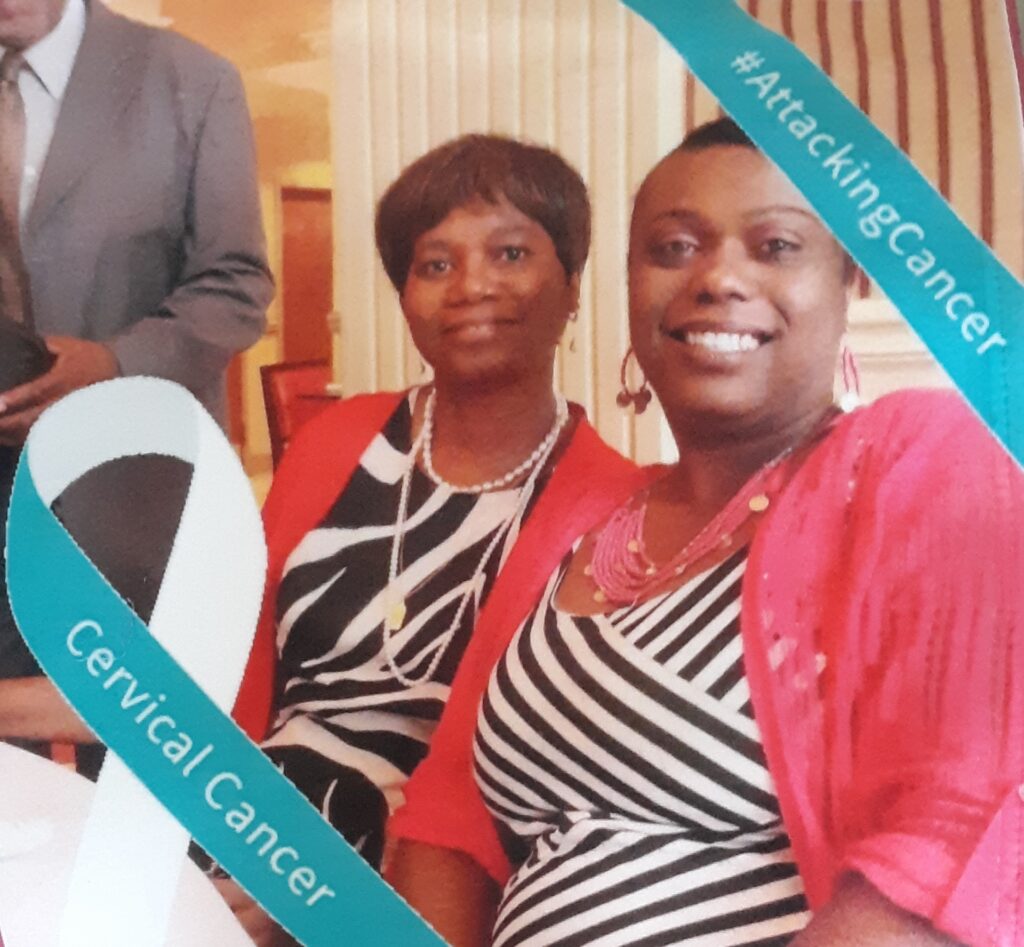 I learned that there are some key characteristics one must have – or develop – to be a loving caregiver: a heart that is full of compassion, joy, peace, patience, kindness, goodness, and gentleness.
Compassion comes from within. You understand what someone else is going through. You strive to do all you can to connect with the person you are giving care.
Joy comes from accepting the challenge of taking care of someone and knowing that you are providing them with all the care and support you can provide. You feel useful, needed, and even gain a sense of purpose.
Peace can be found in caregiving, regardless of the circumstances you are confronted. When you know that you have done all that you can, even if negative situations arise you can find peace in knowing that you gave it your all.
Patience is a requirement for successful caregiving. Patients needs can change daily, so you must be able to adjust to change on short notices.
Kindness, goodness, and gentleness are essential to meeting and managing the needs of those in are care.
It was painful as a mother to see my daughter suffer. It was hard to watch my daughter fight with all she had. Teolita had such drive, determination, resilience and passion. But even in my own pain, I learned that as a caregiver, when we care for others from the heart, we can adapt to the circumstances and conditions of the loved one under our care. In doing this, I received a profound sense of purpose and satisfaction knowing that I had a direct impact on the quality of my daughter's life.
The advice Teolita would share with so many women was "you are braver than you believe, stronger than you seem, smarter than you think, and twice as beautiful as you would ever imagine. Never give up, never give in. You had cancer; cancer didn't have you."
I think this advice applies to caregivers too. You are braver than you believe and stronger than you ever envisioned you could be. Be good to yourself so that you can give care with a full heart. As caregivers, we give so much of ourselves. Take a break and recharge. You cannot possibly take care of another person if you are not physically and mentally healthy yourself.
To honor her daughter and continue Teolita's mission of education and cervical cancer prevention, Nina and her community host an annual Teolita S. Rickenbacker Cervical Cancer Awareness Fundraiser Luncheon. See news coverage and TV clips of the January 2020 event.