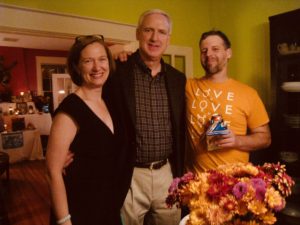 Dia de Muertos has been my favorite holiday since 1995, the first year I lived in Mexico. I was there on a one year pre-dissertation fellowship from the Social Science Research Council. Mexican friends in Cuernavaca invited me to visit the small village of Ocotepec to witness a traditional celebration of this welcoming home of departed ancestors. Perhaps because I had already experienced much loss in my young life, I was eternally moved by the simplicity and sincerity of the Dia de Muertos traditions. We walked from house to house, small cinder block structures, the mood mostly serene and contemplative. In each, an entire room of the house would have been cleared of furniture. An elaborate altar (ofrenda) would dominate the room, adorned with marigolds (cempasuchil), red cockscomb (terciopelos), candles, colorful sugar skulls and skeletons (calaveras), sweet breads (pan de muerto), and tissue paper banners (papel picado). Photos of the person who had died in the previous year. Piles of fresh fruit. Clay pots (cazuelas) full of their favorite moles and other foods. Offerings of their particular 'vices' such as cartons of cigarettes and bottles of tequila. Metal folding chairs would line the other walls of the room for people to sit and reflect, share stories and occasional laughter, offer prayers, and partake of some bit of food prepared for guests and being served from a table in one corner of the room. A warming cup of chocolate atole (champurrado). A couple of tamales or quesadillas. It was a celebration of life and a gesture of reverence for family and community.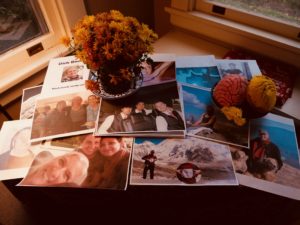 Eighteen years ago I started my annual Dia de Muertos party as a simple thank you to the generous colleagues who took turns driving me to treatment. I was in the first year of a tenure-track appointment at a small liberal arts college in central Virginia when I was diagnosed with cervical cancer. I had been sick for months and was finally diagnosed in June 1999. I had surgery at the end of that month and eight weeks later had recovered enough to begin concurrent rounds of radiation and chemotherapy. My then-husband was teaching at a college in North Carolina, so I was on my own during weekdays. When I told a colleague in the geography department that I had opted to do my post-surgery treatment at a teaching hospital in Richmond, an hour away from the small town where we lived, she balked at my plan to drive myself. Erin insisted on coordinating a pool of drivers for me. Each Monday through Thursday a different colleague arrived at my house to shepherd me to and from the hospital. Steve even brought a brown paper bag with bagel and orange juice, without fail, in an effort to coax me to eat something. We talked or didn't talk. Mostly I slept. I barely knew these people, and I was moved beyond words at their kindness and generosity. Other new colleagues stopped by with food, flowers from their gardens, attempts at normal conversation, and various gestures of solidarity.
Thanks to Julie I was granted a medical leave; she was a grad school friend who came from Pennsylvania to help me at the start of the fall semester and was so alarmed by my sorry state of health she consulted with my chair and dean. I could devote myself entirely to the treatment process and would not have to teach while dealing with the worst side effects of radiation and chemotherapy. As the weeks wore on and my body wore down, I could not wait for the treatment to end. I begged my doctors not to make me endure another weekend in hospital quarantine for my last round of internal radiation. My 31st birthday was coming up and I argued that I should be allowed to finish treatment before that date. They consulted each other and agreed that they had 'hit me hard enough' and that a third round of internal radiation would not likely make a difference in my chances for survival.
When my husband picked me up from the hospital and asked me if I wanted to do anything special to celebrate, I said through tears "I just want to see the ocean." He did not hesitate. Took the ramp onto 64 heading east and drove me to Virginia Beach. That afternoon of staring at the sea marked the beginning of my lengthy healing journey. I vowed to do something to mark the end of my treatment and to express the vastness of my gratitude to the new friends who had held me up over the previous weeks of hell.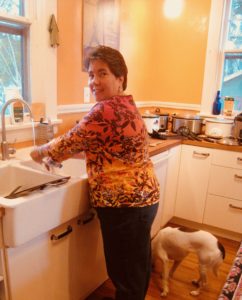 During my annual Dia de Muertos party, I acknowledge the closeness of death and embrace the reality of pain and loss. I long to feel connected to the people I have lost. I rejoice in the raw vitality of life, the beauty of love and laughter and music and dancing. I love to cook for and feed others. I respect the constant interplay between life and death, the way they inform and reinforce each other. All of these feelings became far more intensified during the depths of my illness and the journey through recovery.
Ending my treatment in early October was perfect timing to combine my favorite holiday with a thank you party for my friends and community. I was exhausted by the treatment and still dealing with side effects, as I would be for years. But I spent what time I could the next few weeks lovingly preparing a feast of homemade dishes to share with my caregivers. I wrote a letter to each guest explaining the significance of the holiday and inviting them to join me in celebrating it as well as them and our little community. I called it my Dia de Muertos "F*ck Cancer" Party. I urged people to bring photos and other remembrances of their loved ones to place on my altar. I welcomed symbolic efforts at 'f*cking' cancer and other things that had taken our loved ones. The party was not at all a declaration of triumph. I had no idea if I would live another six months or several years. I could not have imagined the time with which I have been graced. I would never feel comfortable claiming to have 'beaten' cancer. But I would say 'f*ck it' every damn day, even if it eventually killed me.  I continue to do so, every damn day.
The party became an annual tradition. The guest list expanded. The list of diseases and social ills to 'f*ck' proliferated. When my mother died from pancreatic cancer and my marriage dissolved, I put up separate altars. One for my dear mother. One for my failed marriage. When I moved to Richmond, I continued to invite friends from Fredericksburg. Over the years, more friends in Richmond joined the festivities. Mark, my partner of nearly nine years and I have forged new traditions of preparing together elaborate Mexican dishes from scratch. For the ten year anniversary of the end of my treatment, Mark and I had a friend make custom t-shirts as a surprise gift for each guest. Soon after we bought our house, Mark came up with the brilliant idea of using crock pots to keep things warm so that we were not hovering over the stove the whole party. Now we can actually enjoy the company of our guests. And we have more crockpots than anyone I know. Each year new faces appear, at the party and on the altar. Friends and family, some of whom attended the party in years past, have passed on and are represented by new photos on the altar. I have been told many times over how important and meaningful this party has become to the people who attend regularly. A couple of years we took a break because one new grief or another made preparations too much to bear. One year after the death of a dear friend, we hosted a small dinner party with her husband and six close friends in lieu of the larger event. My friend Michele, who I met in 2013 and was the first person I met who had also had cervical cancer, flew down from Boston two years in a row to help with preparations and share in the celebration. This year, the first since getting married last July, Mark and I scaled the guest list way back because having over one hundred people crowd into our small bungalow had become too daunting. I will continue to throw some version of this party, when I can, for as long as I am here.
In June 2017 I attended Cervivor School in Florida. It was a beautiful yet somewhat otherworldly experience. Having spent so many years of my recovery without the company of others suffering the same dread disease, I marveled at the cathartic and supportive experience Cervivor was crafting for each attendee. My heart was filled to bursting as I listened to the stories of other Cervivors and observed their transformation into informed and empowered advocates. I cannot understate how impressed I was by the entire Cervivor organization. Myself, I felt a little bit on the fringe (not unusual for me) because my own treatment was so many years out. I could not plug into the immediacy of the suffering as easily as I once did. I have spent so much time and so much of my heart and soul fighting for my own survival and finding a peaceful place in which to rest my soul. I found myself imagining how different those years might have been if I'd had the solidarity of this group of magnificent people to share the journey. I was completely won over and have enthusiastically embraced the role of Cervivor advocate. I have dedicated myself to become one of the faces of Cervivor in the Richmond community, to invite other people into the Cervivor fold, to educate and care for others suffering a cervical cancer diagnosis.
This past year, two gorgeous souls appeared on my altar. Lisa and Jillian, too young Cervivor sisters, who passed away. Having them front and center on the altar prompted several explicit conversations about cervical cancer, conversations that do not typically happen at my party. I was moved by the questions people asked me about Lisa and Jillian and even my own long ago (but never far away) experience. One of my friends reported the difficulty she has had convincing her son's doctor to give him the HPV vaccine. Another friend talked about her own abnormal pap years ago. My connection to Cervivor will definitely transform this celebration, as it has transformed my own sense of myself as a health advocate.
F*ck Cancer.
¡Viva la Vida!
Read Traci's Cervivor story here.