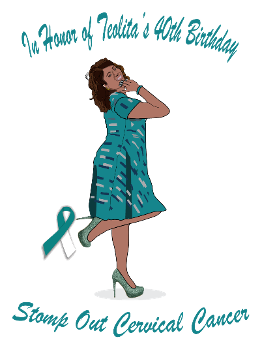 In My Heart Always to Stay
Loved and Remembered Every Day …
Happy Birthday in Heaven
Teolita Schenese Rickenbacker
September 19, 1980 – August 24, 2019
You left this world long before I had planned for you to go,
Our time to say goodbye came way to soon.
After being diagnosed with Stage 4 Cervical Cancer,
Teolita welcomed life with open arms and met all challenges head on.
Teolita had such drive, resilience, passion and determination.Nothing could stop her when she set her mind on something.
Our time to say goodbye came way to soon.
Teolita was relentless in her effort to become knowledgeable about cervical cancer, not just for herself, but to help raise awareness about this type of cancer and the importance of women's health screenings. She became an Ambassador with Cervivor, a nonprofit organization that brings cervical cancer survivors together and helps to spread awareness, education, support and more. Whenever or wherever Teolita was given an opportunity to speak, she would use that time to raise awareness about cervical cancer – considered a silent killer!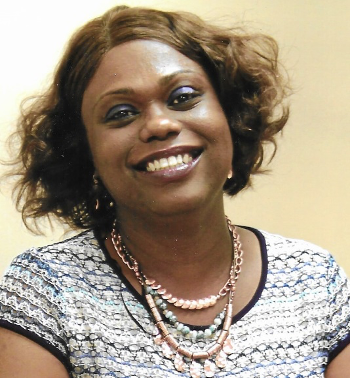 In her speeches, Teolita would say, "What I want all women to know is make sure you listen to your body and seek medical attention if something isn't right. You must be your own Advocate. Make sure you are following the guidelines regarding cervical cancer screening because it is preventable. Always follow-up with your doctor, if advised to do so. Do not let stigmas, lack of knowledge, or shame, prevent you from taking care of yourself."
To all cancer survivors or those fighting to recover from a cancer diagnosis, she would tell them "you are braver than you believe, stronger than you seem, smarter than you think, and twice as beautiful as you would ever imagine. Never give up, never give in. You had cancer; cancer didn't have you."
As days and weeks passed, Teolita and I started feeling all alone. Then she reminded me of the words of encouragement that she got from my mother and her grandmother all through her life. We took everything to God in prayer. In my listening role, I heard Teolita say she needed God more at that time in her life, than ever before. She was able to find hope and encouragement, knowing that she did not have to deal with the challenges alone. Through prayer, meditation, and support from family, church family, friends, and an amazing medical team, she found the strength to fight for life.
During Teolita's cancer journey, I reflected on the many roles that Teolita said I had in her life. She said I showed her many things that only best friends showed. I was her doctor, teacher, preacher, chastiser but most all, I was her mother and best friend. Later during Teolita's journey, I had to add the role of caregiver. I had to support and care for my daughter who was independent, brave, strong and ready to meet the challenges before her, but her physical health was waning!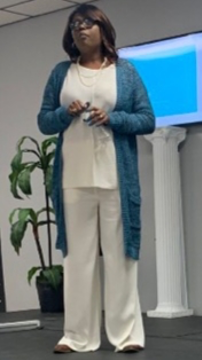 Now, I have taken on two more roles. My new roles are to facilitate the completion of the book Teoltia started to write and to keep Teolita's mission going. Her mission was to raise awareness about HPV and cervical cancer. She was committed to helping others by speaking, educating and advocating for HPV and cervical cancer!
Teolita orchestrated the life she loved and lived. Teolita did it well!
Love Always and Missing You,
"Mommy" (Nina Rickenbacker Edwards)
If you would like to make a donation in memory of Teolita to help other Cervivors attend Cervivor School, please click here.