As the anticipation builds, we are thrilled to share that we are just hours away from Giving Tuesday—a global day of generosity and a chance for us all to come together to make a positive impact. At Cervivor, Inc., we are gearing up for this incredible day and want YOU to be a part of the magic!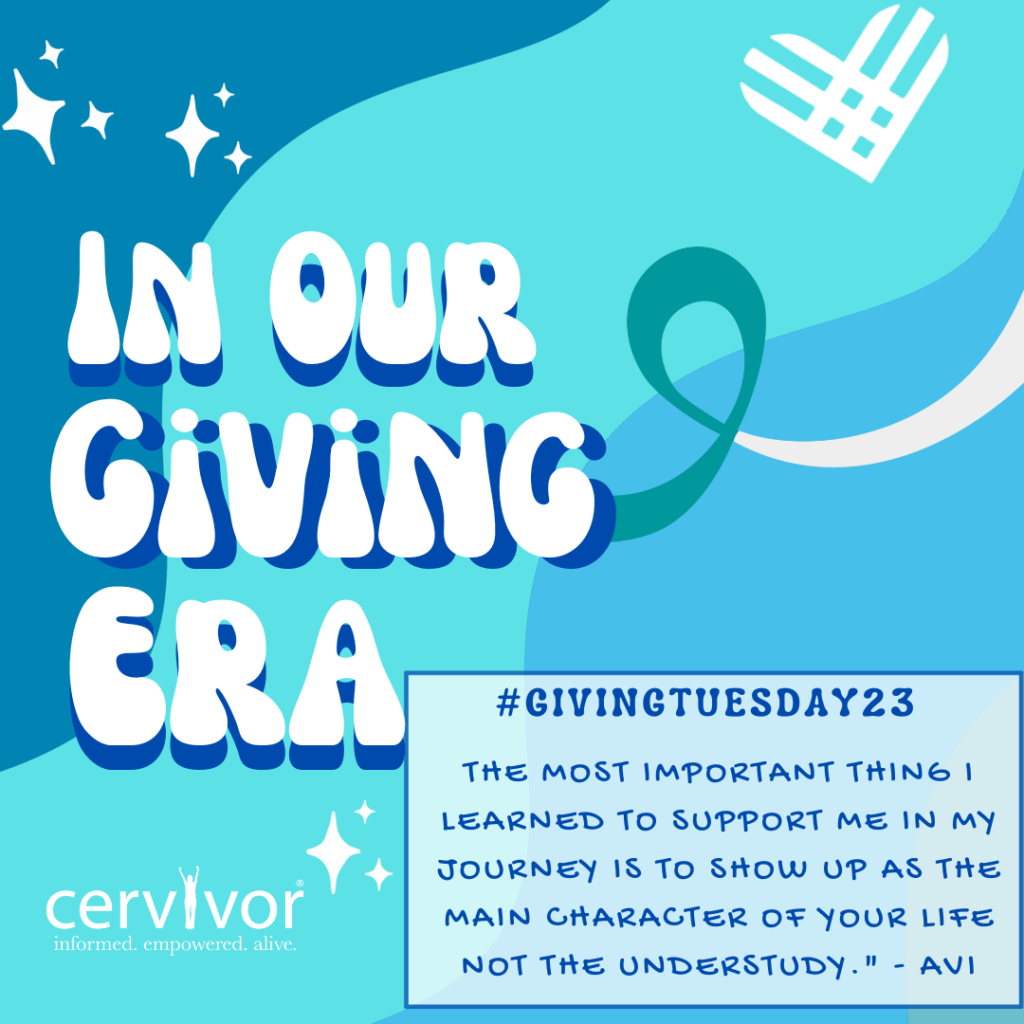 Why Giving Tuesday Matters:
Giving Tuesday is more than just a day—it's a movement that transcends borders and brings people together in the spirit of generosity. It's a day to celebrate the power of giving back and making a difference in the lives of those who need it most.
For Cervivor, Inc., this day holds special significance. It's an opportunity for our community to rally together and support our mission to end cervical cancer through awareness, education, advocacy, and support. Every donation, no matter the size, helps us take one step closer to a world free of cervical cancer.
How You Can Make a Difference:
This Giving Tuesday, we invite you to join our movement and be a part of something bigger. Here's how you can make a meaningful impact:
Donate: Your financial support enables us to continue our vital work in cervical cancer education, awareness, advocacy, and patient support. Make a donation here.
Educate: Knowledge is power. Take a moment to educate yourself and others about cervical cancer prevention, early detection, and the importance of regular screenings. We have some great resources to check out here.
Spread the Word: Share our mission on your social media platforms. Use the hashtags #Cervivor and #EndCervicalCancer to join the conversation and inspire others to get involved.
Volunteer: Your time and skills are invaluable. If you're interested in volunteering with us, reach out to us at

[email protected]

.
Our Progress and Future Goals:
Thanks to the generosity of our community, we've achieved significant milestones in the mission to end cervical cancer but there is still much work to be done. With your support, we can:
Expand our outreach programs to reach more individuals and communities.
Provide crucial resources and support for those affected by cervical cancer.
Advocate for policies that promote cervical cancer prevention and awareness.
Join Us on Giving Tuesday:
The countdown has begun, and we can't wait to see the impact we can make together on Giving Tuesday. Your support matters, and it's the collective efforts of individuals like you that drive positive change.
Visit Cervivor.org on Giving Tuesday to make your contribution and be a part of the movement to eliminate cervical cancer.
Thank you for being an essential part of the Cervivor community. Together, we can make a difference.