Use the "Season of Giving" to do some fundraising for Cervivor so we can keep up our good work. Did you know that about 25% of all annual giving in the U.S. occurs during the last three months of the year? We've all no doubt received the end-of-year appeals letters from local and national nonprofits. Our fundraising work may be smaller but is much more personal because of the stories are ours. The community is ours. Want to help fundraise but not sure how? Here are a few starting suggestions. Please reach out to us at [email protected] and we can help you brainstorm and plan.
Donate yourself, then ask for a match. Donate to Cervivor and ask your employer to match. Post info about your donation on Facebook/Instagram, say why you gave and encourage your friends to match, with a link to our donation page.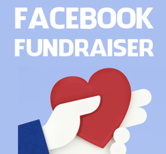 Start a Facebook fundraiser: Facebook's fundraiser makes it easy to select a beneficiary (Cervivor!) and kick off a social media fundraising campaign. Share why Cervivor is important to you. Make a "Christmas with a Difference" or "All I Want for Christmas (or whatever holiday you celebrate) is for Cervical Cancer to be Eliminated" fundraiser. Let us know what creative ideas you have! Share a link and we'll promote your fundraiser in our blog or newsletter.
Take advantage of Giving Tuesday by donating or asking others to donate: On the heels of "Black Friday" and "Cyber Monday," Giving Tuesday (Dec. 3 – the Tuesday after Thanksgiving) is a global day of giving is fueled by the power of social media. It's a great opportunity to donate to Cervivor and to help raise money for Cervivor. Last year we raised more than $10,000 for Cervivor on this one day. Help us keep up the momentum. Each donation helps us grow our outreach, activities and advocacy.
If you're shopping on Amazon for the holidays, sign up for Amazon Smile and select Cervivor as your charity of choice. We get a contribution from Amazon each time you shop, all year long, so you can feel even better about buying presents for your family…or yourself!
Host a Friendsgiving: Are you more an IRL (in real life) person than a social media person? Convene your friends for a "Cervivor Friendsgiving" meal. Share what you are grateful for. Share your Cervivor story and educate about prevention. Ask friends to donate to Cervivor, or to come to the dinner with $10, $20, $50 or whatever makes sense. Cervivor is about the power of community of women there to support each other – not so different from your own community of friends. Tie the two together.
Thanksgiving kicks off the holiday season ahead. Big meals. Cooking. Shopping. Turkey Day. Christmas. Hanukkah. Kwanzaa. New Year's Eve. All of this then leads to our favorite month of the year: Cervical Cancer Awareness Month in January – which rolls around when we are all barely coming up for air from the holidays. So now is the time to get started. We hope these holiday action steps for our community are helpful. We are so appreciative of your support.