In the United States, Cinco de Mayo has evolved into a commemoration of Mexican culture and heritage and many take this day to drink their favorite Margaritas (no judgement). For me "El Cinco de Mayo" or the fifth of May has a different meaning. It is the day I celebrate being cancer FREE. This year I am celebrating 10 years. Therefore, in my mind, everyone is celebrating with me. So have a margarita for me.
Wow! 10 years – a whole decade – what a blessing.
It is amazing to me that I am here. Ten years ago, I did not see this as a possibility. I found myself in a battle fighting for my life.
I had just retired from the NYC Police Department after 20 years as a Police Officer. I was getting ready to enjoy life with my husband, but unfortunately, I was deviated from my plans. Three months after I retired, I was diagnosed with cervical cancer stage IIB.
What do I do now? Am I going to die? So many questions and so little answers. I did not know anyone with this cancer. I did not even know where it came from. I was blaming myself for not going to see the doctor on a regular basis. I have not seen my GYN doctor for over three years. So much blame, so much shame, so much anger, so much sadness.
My journey was difficult to say the least. After 7 treatments of chemotherapy, 35 treatments of external radiation, and 2 treatments of internal radiation, I was lucky enough to beat this cancer. Yes, I call myself lucky because these past ten years I have seen so many Cervivor sisters that have not made it through. This makes my heart feel so sad and it brings mixed emotions to the surface. The common survivor question comes up "why did I make it and not them?" Sometimes we have to settle for no right answer, but I can assure this – their stories will continue to be shared and they will not be forgotten.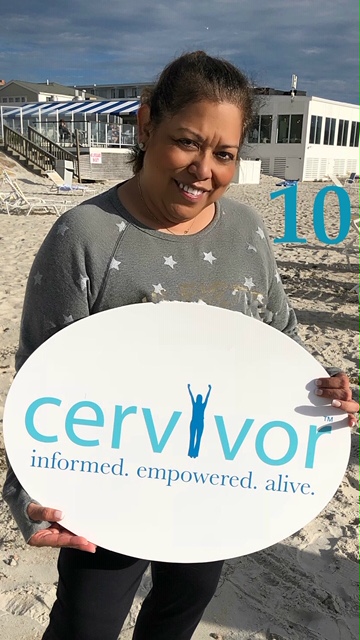 Cancer for sure changed my life forever. I can look at the negative side and say cancer changed my body. I live in fear that this cancer can come back, I live with the physical and mental scars that this monster left me, I deal with the many secondary effects of my treatments, and I can go on with a big list of many other things. However, I choose to focus on the positive things that cancer gave me – I am part of an extraordinary cervical cancer community. I have met women that are courageous, brave, strong, determined and supportive. Women that have personally inspired and motivated me. Women with the common mission to eliminate this cancer forever – that our generation be the last generation with cervical cancer.
I choose to live every day like it was my last and if it is not; I drop to my knees and give thanks.
After my cancer, I wanted to make my survivorship count, and Cervivor gave me the opportunity to do just that. I am a survivor turned advocate.
I share my story as many times as I need to. I educate women on the prevention and on the tools; we can utilize to prevent a cervical cancer diagnosis. I make parents aware of the HPV vaccine for their children. A vaccine that protects their child for the future from the six different cancers linked to Human Papillomavirus.
I will be advocating for ten years this coming October and I am determined to continue to do so in the hope to make a difference.
I try to live every day in the state of love and gratitude.  I am grateful that I am here. I am grateful for these past 10 years.  
Patti is not only a Cervivor Ambassador but also Cervivor's Wellness Instructor for our Survivor Slimdown Facebook group.