During National Adolescent and Young Adult (AYA) Cancer Awareness Week (April 6-10), we want to shine a spotlight on the many young adults who have played such a key part in shaping and supporting our Cervivor community.
AYA Cancer Awareness Week focuses on 15 – 39 year olds who are affected by cancer. As cervical cancer is most frequently diagnosed in women between the ages of 35 and 44, there are many Cervivors in this "young adult" cohort of women, who face unique challenges facing a cancer diagnosis at a time in their lives.
Let's give voice to young adults and the isolation they face:
When treatment experience in and out of the hospital can be particularly isolating for young adults. The average age in a (non-pediatric) hospital is 60, and the average age of a cancer diagnosis (across all cancers) is 66. Young adults fighting cancer, and young women fighting cervical cancer, can find themselves alone with no one their own age to connect with. Then, many have to self-isolate at home as part of treatment due to a weakened immune system. Generally, the top psychosocial issue for young adults battling cancer is social isolation.
For Tamika Felder, the founder of Cervivor, that profound feeling of isolation ultimately led to action: "I was 25 when I was diagnosed with cervical cancer. I wasn't married. I had no kids. I was excited to finally be finished with college and living independently and kickstarting my career. I was focused on setting my long-term life goals, and on everything I wanted to achieve. Then, suddenly out of nowhere, I had cancer. My future looked totally different, especially with the loss of my fertility. It felt like a complete loss of myself," said Tamika. "I felt totally isolated and alone. I felt at that time that it was an embarrassing and 'stigmatized' cancer to talk about." Feeling totally alone, Tamika started reaching out and building a network of cervical cancer survivors. From that, Cervivor was born.
"I felt very alone during the first year after treatment because I didn't know any other young adult cancer survivors or cervical cancer survivors," said Emily Hoffman, who was diagnosed at age 30, shared in her Cervivor story. She speaks about her loneliness and isolation, and the empowerment and support of finding women her own age who had been through what she went through, in her video "Hey Girl."
Let's give voice to catastrophe of losing your fertility as a young adult:
"I mourn the 'normal life' that cancer ripped away from me," wrote Sarah Thibodeaux in her blog on Cervivor, Young Adult Cancer Survivorship. Sarah was only 29 years old when she was diagnosed with stage 3 cervical cancer and lost her fertility as a result of her treatments, "Now I am now at an age where a question that I tend to get from people is whether or not I have any children. When I tell them that I don't, they usually follow up with the question 'Well, why not?' It's in that moment I always have to decide just how in-depth I want to go about my situation, and it can be an awkward experience for both of us."
"Nobody deserves to lose their chance to have a biological child. Fertility is a loss so great that it cannot be put into words," wrote Megan Tanner in her blog Fertility, Family & Cancer. Megan was diagnosed at age 32. "Sometimes, I feel like my body failed me twice (cancer being the first fail), but I have to remind myself it wasn't me, it wasn't my body – it was the treatment that did this to me. The odds were against me, but it wasn't anyone's fault, especially my own."
SPOTLIGHT: Several members of the Cervivor community have joined with other young adult cancer survivors to serve as vocal, active advocates for state and federal coverage of fertility-saving procedures as part of cancer coverage. "Young adult cancer patients have already had to sacrifice a lot to their disease – their chance at future parenthood needs to be valued and protected. We think one of the best ways to do this is by expanding access to fertility preservation, like sperm and egg freezing, through better insurance coverage," says Joyce Reinecke, Executive Director of the Alliance for Fertility Preservation.
"Over the last few years, we have worked with other nonprofit organizations and patient advocates across the country to call for this coverage, and we are thrilled to report that ten states have passed laws to protect this option for cancer patients. This has brought coverage to over 30M people who previously did not have this coverage!"
Let's give voice to financial hardships that young adults face: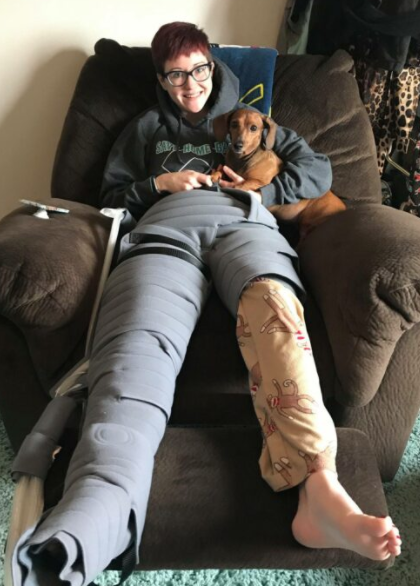 "Being a young adult cancer patient was tough," shared Morgan in her blog Creating Patient-Provider Synergy. "I turned 26 and I was essentially booted off of my mother's insurance. I was paying a hefty premium, co-insurance, hotel and gas in order to receive the care I never had before. It became unfeasible and at the time I didn't know where to turn for resources."
Let's give voice to those who share their voice:
Let's give voice to the many Cervivors who were diagnosed when they were young adults, and who have become shoulders of support and advocates and educators for HPV vaccination, HPV screening and Pap testing.
Like Cervivor Ambassador Karla in Honduras, who let us know on Facebook that she led a cervical cancer prevention and HPV vaccination information session at her work. Like LaTasha, a Cervivor Ambassador in Florida who was diagnosed at age 32. Like Amy, a Cervivor Ambassador who was diagnosed at age 24 and who now is applying her Cervivor School 2019 advocacy training at home in Australia. Like Tessa, who was first diagnosed at age 28 while in medical school, or Katie and Taylor, who were both diagnosed at age 27. Like so many others.
Resources:
There are a number of organizations addressing the unique needs and challenges of young adult cancer survivors: Stupid Cancer, the Alliance for Fertility Preservation, and the Ulman Foundation.