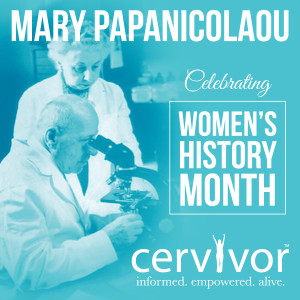 The month of March has been designated to celebrate Women's History Month. It's a time to acknowledge and reflect the women who have blazed trails, driven humanity forward and contributed to society in significant ways.
During this month and all year long, we at Cervivor honor the countless women who have sacrificed and strived to ensure that we end cervical cancer.
There are so many women whose names we know and certainly those that we do not. We are all so familiar with the name, "Papanicolaou" for Dr. George Papanicolaou, the man who invented the Pap smear test. But his wife, Mary was just as important, as she was his first and long term, human subject. Before the introduction of the Pap smear, cervical cancer was the number one killer of women.
We honor and salute Mary Papanicolaou, who, worked as her husband's assistant for 21 years and for her selfless contributions as the first subject for what would become the Pap smear. Thanks to both of the Papanicolaou's. Because of them, thousands of women are alive today.