March celebrates Women's History Month! Let's use this opportunity to recognize an unsung heroine in cervical cancer prevention: Mary Papanicolaou (1890-1982), the wife of Pap smear inventor Dr. George Papanicolaou.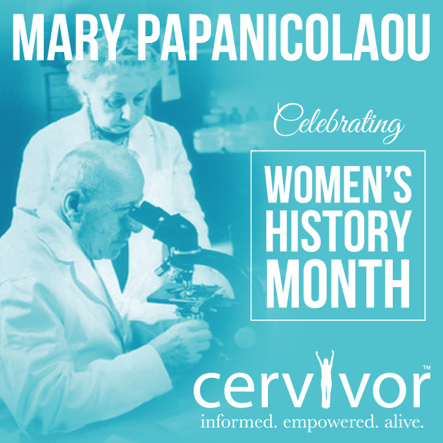 In the mid-1910s, Dr. Papanicolaou was conducting research at Cornell, but because he himself was not a clinician, he lacked access to human patients – except one: his wife. For years, Mary volunteered as an experimental subject for her husband, climbing up on to his examination couch nearly daily so that he could sample her vaginal fluids and cervical cells, which he would smear on a glass slide and examine them under a microscope. It is reported that Mary held gatherings for female friends who agreed to have their cervixes sampled, providing additional subjects for her husband's research.

After one of these women was later diagnosed with cervical cancer, Dr. Papanicolaou was able to determine that cancerous and precancerous cells were visible on the samples. In 1928, he presented these findings at a medical conference, kickstarting the research and refinement that ultimately led to the Pap smear test. With Mary's willingness to have her cervix sampled daily (for years!) she lay the foundation for the invention of the Pap test and ultimately, for the HPV test and HPV vaccine. Thanks to Mary and her husband, cervical cancer can be detected early, cervical cancer mortality rates have plummeted and thousands of lives are saved each year. Mary Papanicolaou, we celebrate you!