In 1999 the Foundation for Women's Cancer established September as Gynecologic Cancer Awareness Month, or GCAM. Since then, the month of September has been a time to bring awareness to all gynecologic cancers-cervical, ovarian, uterine, vaginal, and vulvar.  In 2018, it was estimated that 110,070 women would be diagnosed with a gynecologic cancer and some 32,120 will die from the disease. Every woman is at risk for a "below the belt" cancer. Reading the statistics can feel overwhelming, but we believe that education and awareness is the most powerful tool we have, in fighting this important battle in women's health.
Understanding GYN Cancers
As women, we must understand our bodies and the warning signs for GYN cancers. Sometimes there can be little to no sign at all, while other women may experience abnormalities that could be indicators of a serious health issue. The table below is a helpful tool to use when understanding GYN cancers.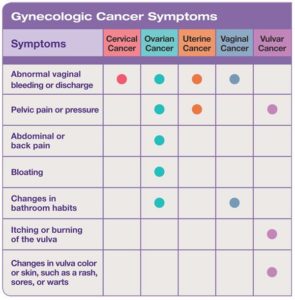 At Cervivor we always say, prevention is better than treatment. For best outcomes, make sure you're keeping your annual Well-Woman visit, cervical screenings, obtaining the HPV vaccination if appropriate, and communicating any changes with your physician. Keep in mind, there is no screening for uterine or ovarian cancers. Maintaining an open dialogue with your provider is imperative.
What can you do?
GCAM is a time for our community and advocates to bring awareness to GYN cancers. We encourage you to participate in GCAM by:
Sharing Cervivor content during GCAM. We will have plenty of graphics, articles, and other resources to share with your social media network, across all platforms. Make sure to follow us on Facebook, Twitter, Instagram, and Pinterest.
Share you Cervivor Story. Have you shared your story with us on Cervivor.org? Sharing your story on our site is a powerful tool for getting your story out there. Our template guides you with questions, to help you share your cervical cancer story in a way that is personal to you. You can share as little or as much as you like. Once you have submitted your story and it is published, you will be able to share the link with others.
Contact local media to share your Cervivor story. Many times, local news stations, newspapers, and neighborhood publications are looking for content. Reach out to them and share your story. If your story is on Cervivor.org, share the link with them when you reach out.
Host a Cervivor Meet-Up. Meet-Ups are local gatherings of Cervivors, networking and sharing in a social environment. You can hold a Cervivor Meet-Up in a coffee shop, restaurant, bar, or any where you feel is a welcoming and relaxed place for Cervivors to talk and share. If you're interested in hosting a Cervivor Meet-Up in your area, contact [email protected].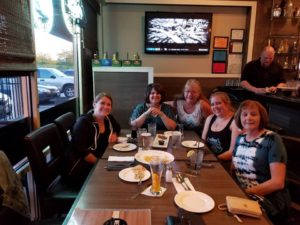 We look forward to a successful GCAM and can't wait to see how our Cervivor Community comes together to bring awareness to cervical and other gynecologic cancers! We are Cervivor!
Statistics: http://www.foundationforwomenscancer.org/about-gynecologic-cancers/