The conversation had started off as well as these things normally do. I was standing in my studio getting ready to work on some new music when she called.  We said our hellos and asked each other what the other one was doing. Then she paused a moment and breathed hesitantly, yet with a firmness of practiced thought and review.
"Before we go any further, you need to know. I have cancer."
As I've come to know over time and experience in being part of the caregiver community; no one fully knows what their reaction will be. There is the conscious utterance of sorrow, shock, and surprise. Yet in the subconscious, an obfuscation of thoughts and emotions spill without measure throughout the very fibers of your being. Fear and ignorance of the details of the situation that you're now facing, no matter how grand or subtle, eats away at the very thing that you hold dear with that person.  The very love and hope that you've invested towards them, is compromised; in ways that are completely and thoroughly incomprehensible to you as you stare in the incredible gravity of those words they just spoke.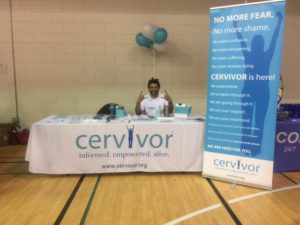 As I've also learned in being part of this community now; the fear, uncertainty, ignorance and misunderstanding; has caused many to walk away from their loved ones. I've been told stories about how so many husbands have walked away from their spouses, children have blamed their mothers, and communities have shunned them in whispered rumor and judgement stricken with the narrow doctrines of puritanical ideologues.  These women who have become victims of cervical cancer and other HPV related diseases were now the sorority of Holly Lawson. This beautiful and vibrant woman whom I just had met for a date at some innocuous local pet store and had a small dinner date with at Fuzzy's Tacos only days beforehand, was suddenly telling me that she was now stricken with a disease that I had only passing awareness of. This woman that made me laugh and smile like no other, was now entwined within a somber embrace to a vessel of suffering that humbles all who linger in its shadow that does not fade.
Holly was scared, though she held it well. If one only glanced she appeared mostly unaffected in passing. Yet I know fear. I know death. I know suffering. I know despair. She could not hide it from me.
"Oh my God. I'm so sorry…"
"If you don't want to meet me anymore I….."
"When can I see you? Can I come over later tonight, well it is getting late. How about tomorrow?"
"Wait. Didn't you hear what I said?"
"Yes, I did. So when can I see you?"
"Aren't you afraid or something? I mean, I just told you…"
"Yes I am, but I am not going to give up a chance on love because of this. Well just see where this goes, we've only been on one date so far, well technically 352 dates already…. Besides, I know this great taco shop called Rusty…"
That was our first real conversation. From there I watched in awe as she battled every day an enemy that I could not kill.  I waited with her as she lingered between states of consciousness and awareness in almost every area of her hospital and various clinics.  I held her hands as she trembled from infections that caused mortal pain.  I looked on in absolute shock and sadness as she bore the Frankenstein like scars on her body of what the doctors had to do her physically, to keep her alive.  I held her as she cried, awash in depression, anger, fear, hate, and confusion at her own family and friends who were not there with her and did not appear nor could they truly understand what she was living through, and the battles that she won and lost in a war for everything she was. I watched as cancer broke her and everything that she held onto from a previous life — that seemed so distant and blurred with fondly recalled memories; seemingly fading a little more with each passing day where she lingered in its suffocating shadow. I watched Holly survive.
"Before we go any further, you should know; I have cancer." 
That sticks with me every day. Cancer is not something that goes away just because you have gotten some sort of treatment.  It lingers in your thoughts, it colors the sky teal, it fuels contempt at the world, it makes you smile with your arms linked a fraternity of those caregivers who stayed — who want nothing more than to comfort and ease the wounds and scars inflicted upon the women they love so desperately by a villain that they cannot kill.
As a man, I have found that being a man is much harder than it appears by birth-rights. Charging into a fire, running towards gunfire and putting your physical life on the line does not ultimately make you a man. Nor does it really make you courageous and worthy of praise.  That is because when one finds themselves in the moment of fight or flight, you either do or do not.  The try part is left to the others who endeavor to make sense of the ways which you have to make that decision in the first place. In my opinion, being a man is standing there with the woman you claim to love and care for, and help her walk down a linoleum hallway in the middle of the night with the stench of chlorine and sterility holding her hand as she struggles to stay conscious and upright.
It's holding the catheter bag filled with despair and fragile hope. Being a man is running to every CVS, Walgreens and 7-Eleven trying to find a back scratcher for her to use on her legs as she cannot bend down to reach them while she lies between fits of incredible pain to dimly coherent conversations laced with the morphine that eases some of the suffering. Being a man is staying awake all night to rub her back as gently as possible, so that she may rest for even just a moment; knowing full well that your workday is going to be pure hell after driving at least an hour one way just to get here on time. I've discovered that many men have not done this. They walked away. They have left the mother of their children and their partners of some years because she has suffered a blow to her very existence. A man does not harm his partner and does not leave her side because she is suffering through something that she did not cause.
Holly did not invite her fate, she was a victim of life, as we all are. If I could not give her a chance, give myself a chance, and give love a chance; then everything that I've ever stood for and have ever believed and have fought for is truly worthless.  It means that ultimately, I do not care about love. It means that truly, I cannot love. However, as we all want love, so do I. Because of Holly, I believe in love and the absolution of what that means.  I believe in love, not because of some mythical story of dragons or starry-eyed fairytale of gowns, but because I believe in what is right and good about this world and our place in it and to me that means that you have to believe in it for its very sake; not because someone told you to do so. From what I've seen in life, this is not really taught to anyone in ways that they can truly embrace unless they have experienced it for themselves. So, in the end, the very thing that keeps me; is that I truly believe in love.
I believe in what Holly is. The same woman that made me laugh and smile; and think; and fuss and curse — and all of it. I believe in life again and all of the beautiful and horrible things that it brings us. Not because I was told to. But because I met Holly. When she survived, so did I. Why?
Because I love her.
Addendum
"Before we go any further, I have to tell you something. I have cancer again, it came back."
"Really? F***. Ok. Let's go to Fuzzy's… I kinda want to try that new burrito bowl. It doesn't look like the one from Chipotle, but hey let's try it anyway, we should get nachos too…. The pork ones.  It's going to be a long day between Dr. V's office and the cancer center. Hey, hold on let me get the door… there you go, the seat belt is back a little far so I don't want you to stretch too far, you're still in your belly."
I kissed her gently as she sat in my car.
"I love you, Holly. Everything is going to be alright."
Check out Holly's story here:  www.t0g.ce7.mywebsitetransfer.com/holly
Claude Swain is a writer, actor, and musician who hails from Rocky Mount, Virginia and now resides in the Dallas-Fort Worth area, with Holly and their fur baby, Luna. He is a Marine Corp combat veteran and attended Virginia Tech. Claude has played in the Richmond Symphony and is an active part of the Dallas music and arts scene. He is a wine enthusiast and cigar aficionado, who has never met a taco he didn't like. He is currently the Sr. Site Development Manager for Tillman Infrastructure in Carrollton, Texas.