Caregivers are a lifeline for cancer patients. Without them, we can't get to and from appointments and treatments, they provide warm meals or go to the store when you're in desperate need of Gatorade. Your husband will drive to every fast food joint that you haven't gone to in 20 years, just to try and find a hamburger that reminds you of your favorite place in Seattle, because it's the only thing you want to eat during chemo. Caregivers aren't always those who care for you physically, sometimes they're thousands of miles away, but they always answer when you call or text, letting you cry "on their shoulder" or helping you through the hard times.
I'd like to give a shoutout to my main caregivers: My mom and dad, my husband Dan, and my best friend Jessica. I have so many other people who have showed up for me throughout all my treatments, but these were the ones who were my rock.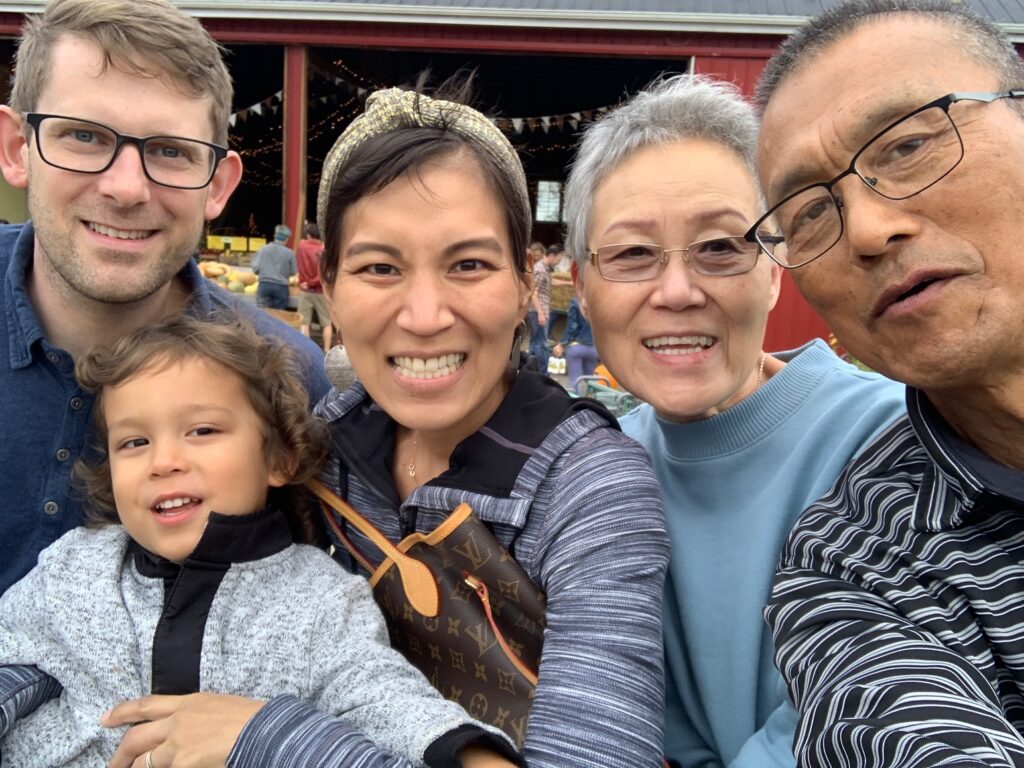 When I was first diagnosed in 2014, I was living in rural Montana and chose to have my care done at the University of Washington in Seattle, which is also where I had gone to school and lived after college. My husband and I traveled to Seattle often for appointments and so many of our friends hosted, fed, and drove us to appointments and surgeries. When I was back in Montana after a whirlwind of biopsy, IVF, and hysterectomy in Seattle, my parents came from Washington and spent the better part of six weeks driving me to six weekly chemo appointments and 25 radiation plus brachytherapy appointments. My father-in-law also came from California for a couple weeks and local friends also helped take me to appointments.

When I had my recurrence last June, those same Seattle friends came to my rescue, hosting me, Dan, and now our toddler, during the pandemic, and continued to feed us. My parents would drive two hours to watch our son during multiple procedures or full day appointments I had. When I had my tumor, kidney, and ovary removal surgery in September, our son stayed with my parents for a week while I was in the hospital. My husband worked from the hospital chair, not able to take time off as he was promoted to a different site across the country and had to finish out projects. Friends gave Dan a place to sleep and shower, and continued to feed us. When I got home, there were flowers and delicious treats sent from friends local and afar.

After the surgery I found out that they were unable to remove all the cancer and I would need to go through chemo again. My mom gave up winter in Mexico to spend it in snowy Montana taking care of me and my son for months while my husband was able to work and concentrate on his new job. My Montana friends drove me to my chemo appointments every 3 weeks, and so many of them supported me as my hair fell out, dropped off food, and would take my son for walks or help get him out of the house. My mom would make me bone broth from scratch and force me to drink Ensure on days I couldn't eat. She kept our house clean and made us every meal.

After treatment we moved across the country for Dan's job and we were excited to start a new adventure and put cancer behind us. Then in May I started having debilitating lower back and butt pain on the right side. My toes had started tingling at the end of February, and the tingling was moving through my foot. I ended up in the ER one night from the pain, and we did scan after scan to try and find the source. Nothing showed up on any of the scans, so I was diagnosed with radiation induced plexopathy, a rare side effect to radiation that happens to about 1% of radiation patients. Walking became harder and I noticed my right foot starting to drag a little. One morning I woke up, and my foot wouldn't move, it was dangling off my leg like a fish on a pole. I could no longer drive as my foot wouldn't push down on the pedals.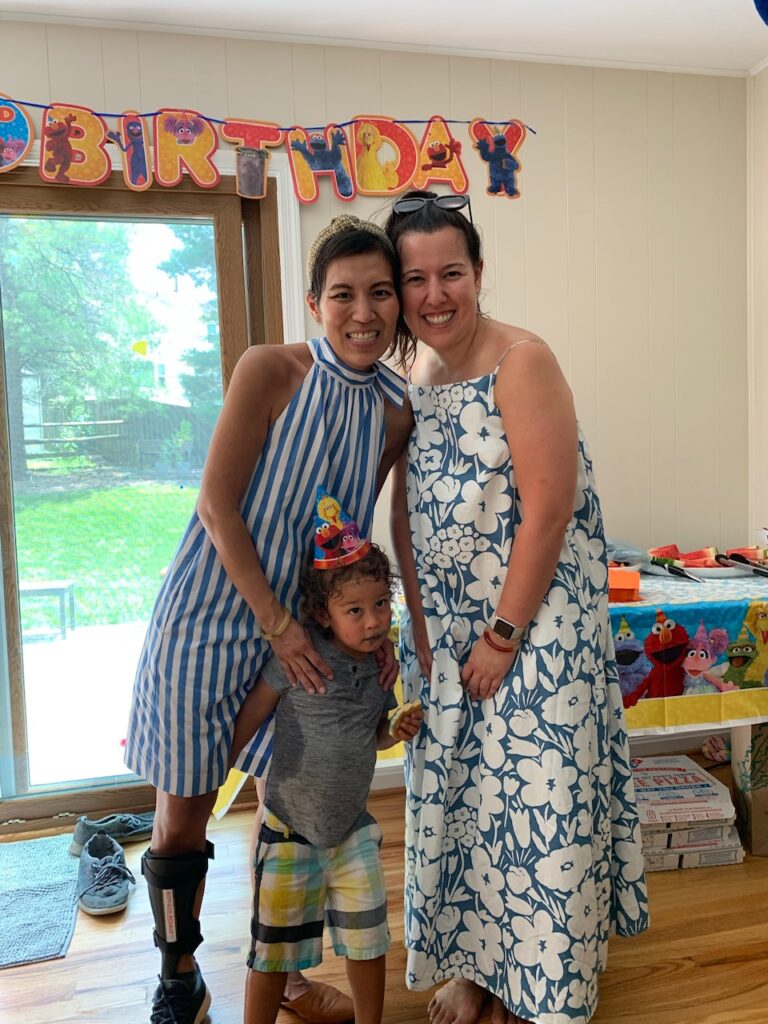 My best friend Jessica had planned to come out for a couple weeks to visit, and she ended up staying longer to help drive my son to and from Montessori and me to appointments. She is an occupational therapist, and guided me through working with a PT and finding things to help me get around the house and make sure I was safe. Jessica has always been there for me. She was the first one I called when I got engaged and pregnant. She was the first phone call when I found out I had cancer and she has always helped me advocate for my health and well being. I text her way too much throughout the day, and often use her as a therapist, even when I already have a therapist I talk to. She was the one who told me I needed to take time off of work and apply for short term disability as work became increasingly impossible through my pain, and soon with all my appointments that took up most of my day. When she saw what bad shape I was in, she rallied our friends to come out and help drive me to my 3-month everyday appointment plus more when my parents needed a break.

Speaking of my parents, my amazing parents suffered through Maryland's hot and humid summer to take care of us again with my mom cooking and my dad driving me to all my appointments. I don't think they expected needing to take care of their 36 year old daughter, but they dropped everything and came to Maryland whenever I called.
And of course my husband Dan has been a huge support through all this.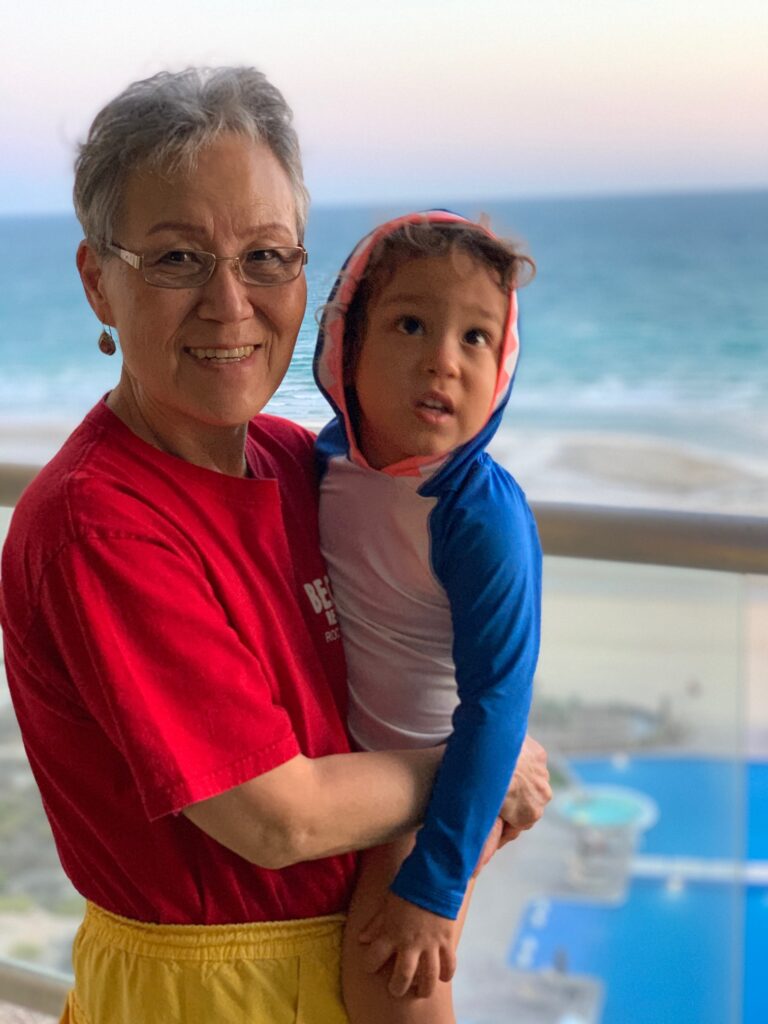 So much focus is put on the cancer patient during and after treatment, but caregivers are often forgotten about. I would often tell people that I had it "easy". Even when I was feeling horrible, I could often try and sleep through it all. Dan would have to work all day then come home and take care of our son. Having my mom stay with us to take care of me and our son was a lifeline for us, but I know it still wasn't easy on Dan and my mom. Caregivers are an integral part of a cancer patient's life. Without their patience, understanding, and love, going through treatment would essentially be impossible. The next time you ask a cancer patient how they're doing, be sure to take the time to ask how their caregiver is doing as well.
Gina is a mother, wife, friend, and two time cancer survivor. She was diagnosed with stage 3 cervical adenocarcinoma in situ at age 32. Not only does Gina hope to remind women to stay on top of pap smears and get the HPV vaccine, but she wants to raise awareness about side effects from cancer, both mental and physical, that happen after treatment ends.