Cervivor Chief Visionary Tamika Felder and music composer Pete Lacey Receive Three Telly Awards
May 25, 2021 – During a year when the world shutdown, Cervivor created a video that shows what resilience and strength look like. The song, The Will to BE, written and composed by Cervivor caregiver Pete Lacey, is the backdrop to this timeless music video featuring amazing cervical cancer survivors from around the world. This beautiful video was made in partnership with Tim Hashko, President of Steaming Kettle.
Winning Gold in Three Categories: Social Impact, Social Not for Profit and The People's Choice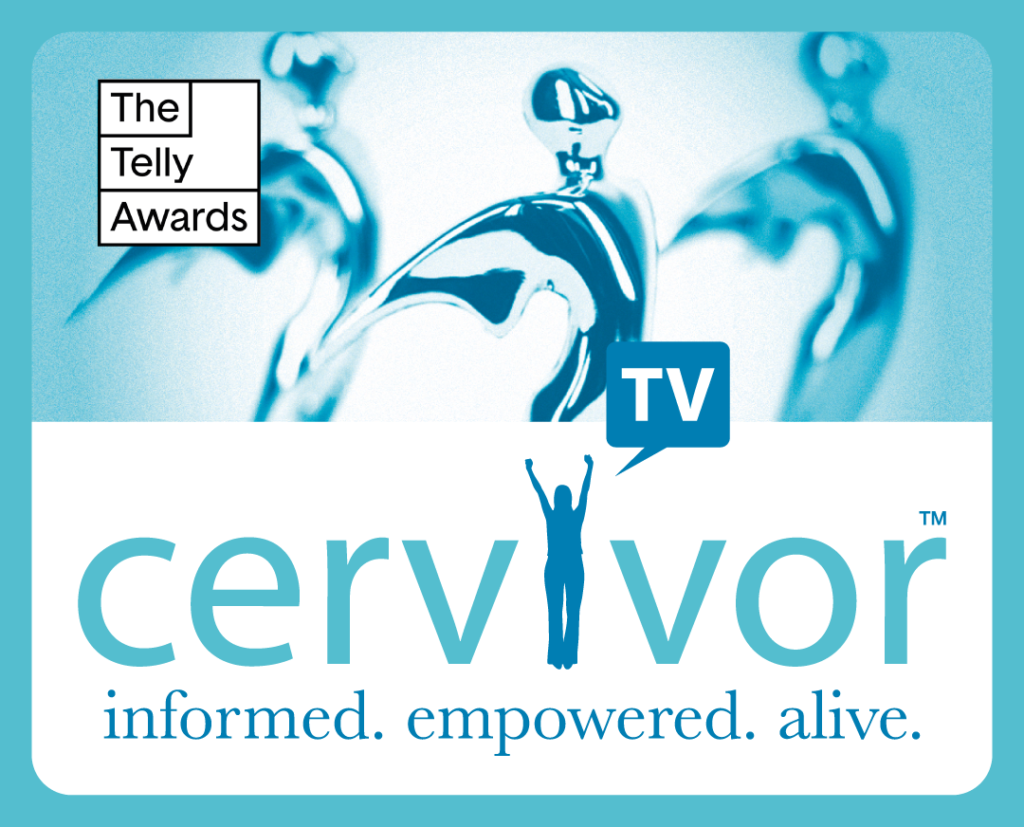 "Winning three Telly Awards for our work on Cervivor is a testament to the brave women in our network that advocate for themselves and others affected by the disease, who are forcing conversation about the ugly nature of this often misunderstood and stigmatized form of women's cancer," said Tamika Felder, Founder and Chief Visionary of Cervivor. "We feel heard – our stories are being validated and celebrated out of the 12,000 entries the Telly Awards receive, which shows that people want to learn about cervical cancer, they just need someone to teach them."
"When I saw the first cut of the video, I knew it was going to be something special. I soon recognized that my aspirational lyrics that are lived by incredibly inspirational Cervivors, would be impactful, thought provoking and healing. I'm humbled to know the world now thinks so too", said Pete Lacey.
"We wanted to show the world that cervical cancer is not faceless. We come from all walks of life and have been affected by this horrible disease but we continue to persevere and find joy in living", said Carol Lacey, Lead Cervivor Ambassador and Production Manager for the The Will to BE video.
Cervivor knows the power a story holds and this community did not hesitate to step up and bring a light of hope when so much of the world is struggling. We saw these women just as they are, sharing that in spite all the adversity cancer brings, life is about the small moments that bring us laughter, happiness and a sense of calm. As the rest of the world moves through a challenging pandemic, those in the Cervivor community showed us that it is possible to rise above stronger together.
About Tamika Felder
Tamika Felder is well-versed in media on both sides of the camera: she's provided commentary to national radio shows, worked as a journalist and producer in multiple capacities, and is now in the process of making her own documentary. See this short video on her lifestyle website to see how she's living her second chance, and read more about her experience with cervical cancer on the Cervivor website.
About Cervivor
Cervivor builds a community for cervical cancer survivors, family members, educators and caregivers to advocate for HPV awareness, cervical cancer prevention, to create meaningful networks across survivors and experts in the field; and to ultimately change the future of women's health. To learn more, visit www.t0g.ce7.mywebsitetransfer.com.
About Pete Lacey
Pete is an inspirational artist who has earned his reputation as a talented musician, skillful performer and composer. Pete generously donates much of the proceeds of the sale of his music to cancer fighting organizations like Cervivor. To learn more, visit www.petelacey.com.
About The Telly Awards
The Telly Awards was founded in 1979 to honor excellence in local, regional and cable television commercials with non-broadcast video and television programming added soon after. With the recent evolution and rise of digital video (web series, VR, 360 and beyond), the Telly Awards today also reflects and celebrates this exciting new era of the moving image on and offline. The Telly Awards annually showcases the best work created within television and across video, for all screens. Receiving over 12,000 entries from all 50 states and 5 continents, Telly Award winners represent work from some of the most respected advertising agencies, television stations, production companies and publishers from around the world. To learn more, visit www.tellyawards.com.