That is something my son Matthew always said to me, and I always laughed. I had no idea that line came from the movie Mean Girls, nor how much I would remember this comment and how it evolved and shaped my Teal & White Tuesdays.
I knew pink was the color for breast cancer as I had already been down that path. I had no idea what the ribbon color was for cervical cancer. When I received my diagnosis in 2015, I had to research the ribbon to find out what my color of ribbon would be. Deep down somewhere in my subconscious, I knew I would be wearing that color for the rest of my life.
After my lengthy treatment battles, I found Cervivor. This became my "go to" group for information, help and support. I loved it when they said to wear teal & white on Tuesdays. An idea began to form.
I attended Cervivor School in 2019 with much help and support from my friends and family. I honestly don't remember Tamika's exact question that day at Cervivor School, but I immediately remember my response, "On Tuesdays, we wear Teal and White." Thanks Matthew, for the quote from so many years ago!! The idea continues…
I have bought my son several ties and dress shirts in the teal and white theme that he proudly wears to work. I make an effort to post something on my social media accounts about #TealAndWhiteTuesday every week to remind people about cervical cancer, to get your cancer screenings, to get your vaccinations, and to promote awareness. The idea is growing.
In January of 2020 during CCAM, I was invited to Matthew's place of employment, Hy-Vee. They did a promotion during that year to promote cervical cancer awareness. I had so many more plans for public awareness campaigns, but 2020 had other plans for meeting people.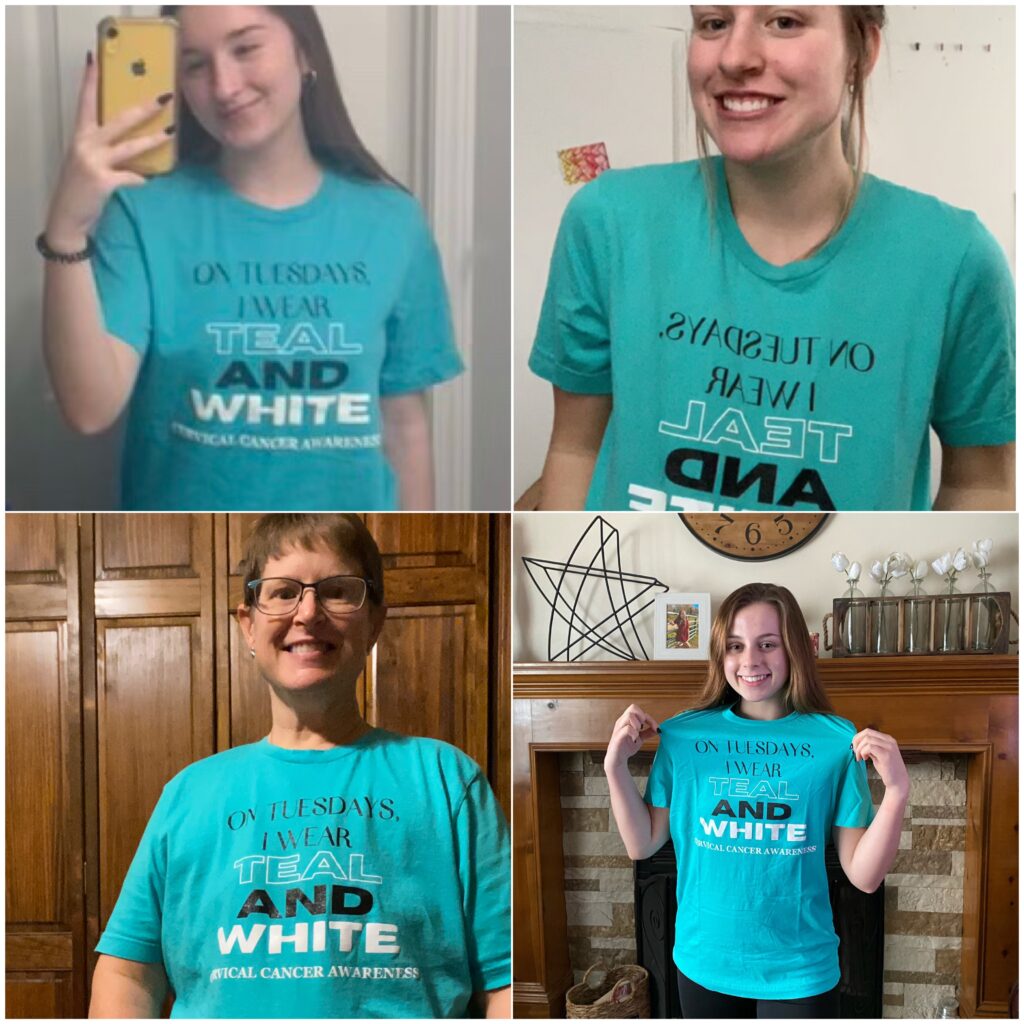 I was forced to refocus my efforts, and the idea began to fully bloom. Pandemic boredom = creative, crafting mind flow. I started off with buying printable iron on sheets and made one shirt. I wanted more. I created a better graphic design and had made several more shirts. I handed out twelve shirts to people, and five of them went to high school age girls. We discussed cervical cancer and the need to take care of yourself, even at a young age.
I made and sold teal and white kitchen pot scrubbers, with proceeds going to Cervivor. I attend the Cervivor virtual holiday party and am now on the CCAM Planning Committee. I tell everyone I meet that health is a PRIORITY in life and do not ignore it!
I post about cervical cancer and Cervivor so often now on social media to spread the word. I talk about it with my friends and family. I am not ashamed or too shy to share my story with others, no matter who they are. I want people to know how this affected me, and how I am a stronger person now for the ordeal I survived.
The impact that Cervivor School had on me to advocate and talk about this has amazed even myself. I was not even sure about going, and here I am a year later involved as I can be and loving every minute of it.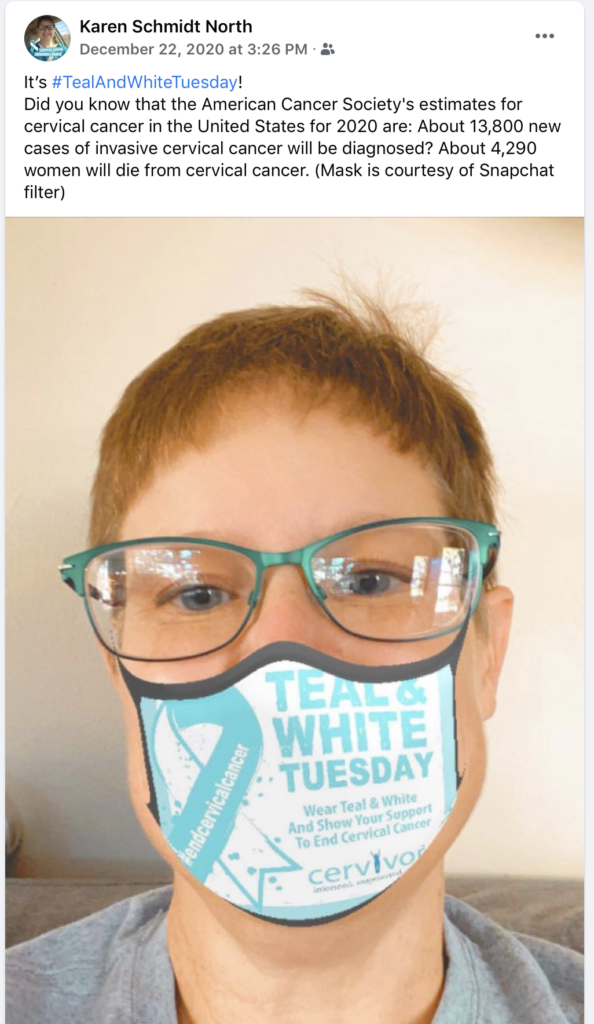 I love #TealAndWhiteTuesday and dress in it every week, even if I am not leaving the house to go anywhere. I am forever grateful to my family and friends in supporting me to get the word out, and I love how involved they have become to spread the word as well.
Have you ever noticed how many people actually read the t-shirts people wear? Have you stopped yourself to read someone's shirt as they walk by you? It offers an ice breaker without having to say a word.
"On Tuesdays we wear Teal and White." Spread the word.
Karen North lives in Liberty, Missouri. She is a retired registered nurse. Her world is her family, fur-babies, and friends. She is a six-year breast cancer survivor and a four-year cervical cancer survivor.
Read Karen's Cervivor story.
Read Karen's blog post on being both a breast cancer survivor and cervical cancer Cervivor.