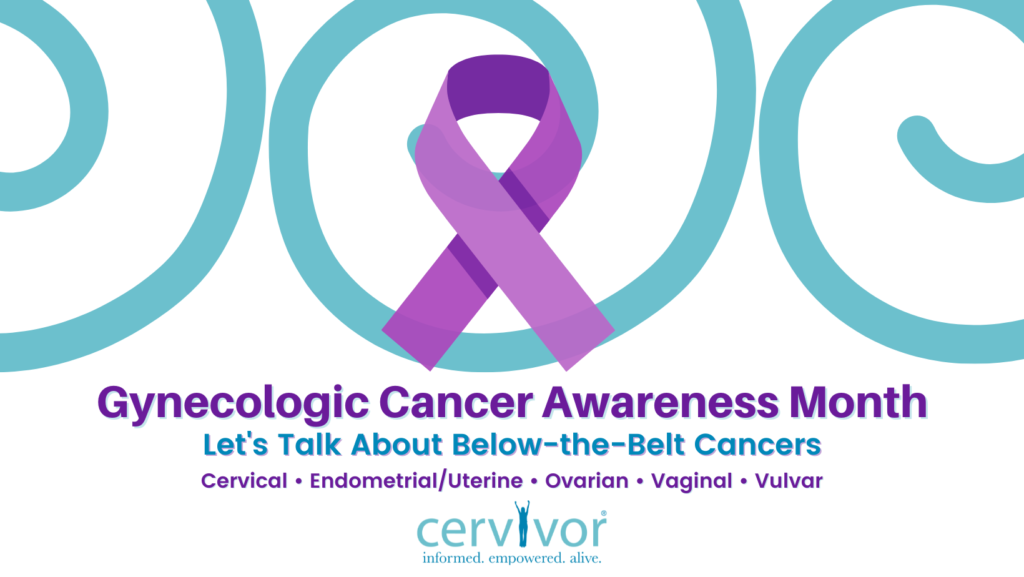 When the calendar turns to September, it's a good reason for anyone touched by gynecological cancer to share their story because September is Gynecological Cancer Awareness Month (GCAM).
For those of us in the Cervivor community, September is a significant opportunity to pull out our advocacy boots (and dust them off if they haven't been used in a while), put below-the-belt cancers in the spotlight, and pick up our momentum to carry us through the remainder of the year. 
Why is GCAM so important?
Reducing social detriments can improve quality of life, increase survival rates, and close the gap in racial disparities (ASCO Post).
We know there are so many more to list which is why Cervivor continues to be actively engaged in gynecologic cancer awareness. We're committed to sharing our stories, spreading awareness, and showing the people impacted by gynecologic cancers. We're facing these disparities head-on!
How can you get involved this GCAM?
Wear Teal and White on #TealandWhiteTuesday. Don't forget to tag us on Instagram and post your photos in the comment of our Facebook posts!


Share your Cervivor Story. Have you shared your story with us on Cervivor.org? Sharing your story on our site is a powerful tool for getting your story out there. Our template guides you with questions, to help you share your cervical cancer story in a way that is personal to you. You can share as little or as much as you like. Once you have submitted your story and it is published, you will be able to share the link with others. Need help getting started? Send us an email at

[email protected]

!


Contact local media to share your Cervivor story. Many times, local news stations, newspapers, and neighborhood publications are looking for content. Reach out to them and share your story. If your story is on Cervivor.org, share the link with them when you reach out.


Host a Cervivor Meet-Up. Meet-Ups are local gatherings of Cervivors, networking and sharing in a social environment. You can hold a Cervivor Meet-Up in a coffee shop, restaurant, bar, or anywhere you feel is a welcoming and relaxed place for Cervivors to talk and share. If you're interested in hosting a Cervivor Meet-Up in your area, contact us at

[email protected]

. *Cervivor recommends following the latest CDC recommendations for any gatherings.*


Become a Partner in Purpose. From care team to community member, your role in cervical cancer awareness, treatment, support, and prevention is of the utmost importance to us. Interested? Sign up here.


Donate to Cervivor or host a fundraiser on behalf of Cervivor.
We look forward to a successful GCAM and can't wait to see how our Cervivor Community comes together to bring awareness to gynecologic cancers!