It is with our deepest sympathy we announce the passing of our dear community member, Jodi Madsen.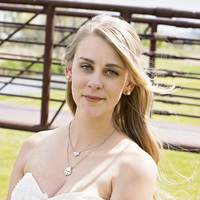 After being connected through our monthly virtual support group, Creating Connections, Jodi felt she had found the community she had been seeking. She was a wordsmith and gifted us with several blog posts to share her deeply personal connection to cervical cancer.
Jodi had what we call the "Cervivor Spark" about her. She took her diagnosis and turned her voice up in a way that others would take notice and understand how we're more than a cervical cancer diagnosis. We're daughters, sisters, mothers, aunties, best friends, coworkers and so much more.
She utilized her social media platforms to create informative reels which earned her the Brittany Wagner Social Media Advocacy Award from Team Cervivor. Jodi would later get recognized by a global pharmaceutical company to share her experience and make an even bigger impact.
She was such a bright and supportive light in our community attending one Creating Connections after another – always with the biggest smile on her face and an occasional tear or two from seeing the impact of sharing our stories throughout the year.
She shared, "Getting to listen to my friends brought in a brightness I needed so deeply in my soul."
Our thoughts and prayers are with Jodi's two sons, her husband, family and friends, and our entire Cervivor community. We know how much each of you meant to her.
Join us in remembering Jodi.
Read Jodi's Cervivor story and from her personal blog "Mama is Healing."
A direct link to her obituary can be found here.