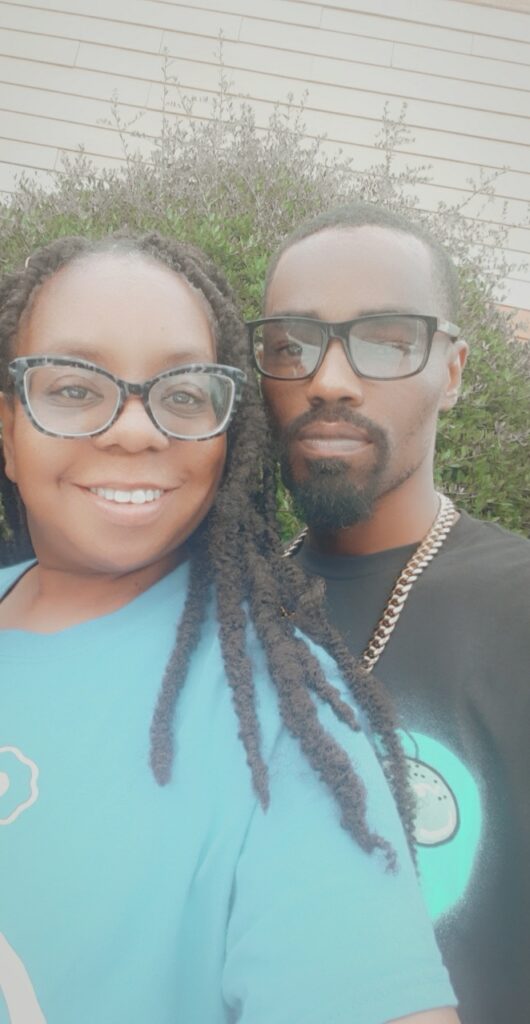 A little background on me. I'm Lindsay and I'm a Jersey Gal, originally born and raised. My three girls and I moved to Richmond, VA, where I met my husband in a Criminal Justice class (and he's seven years my junior) and together we had a girl and our first and only boy. I am currently working as a One-on-One in Gaston County for the Department of Exceptional Children by way of Support, Inc. and I absolutely LOVE what I do!
Now let me jump into how I got here… a cervical cancer survivor and advocate.
It all started with bleeding. A lot of bleeding.
I have always been a regular period gal, like clockwork every 28 days, something I could count on (except when I was pregnant of course) and something I never worried about. So naturally, I was alarmed when I suddenly started bleeding irregularly. But my normal period soon came.
One day after being intimate with my husband, I started to bleed.. a lot. I didn't think much of it and I just figured that maybe that month my period decided to stay a little longer. But a few days later, I started to bleed again. Now, I am really alarmed so I went to the ER where they told me they didn't see anything wrong and it was normal.
The next month the same thing happened. Only this time there were clots and it was random and more frequent, to the point I ended up wearing pads all day every day because I never knew when I was gonna bleed. There were days I would be sitting on the toilet for 45 minutes bleeding.
I went to my general doctor and I also scheduled an appointment with my gynecologist. As I was explaining everything to my doctor, I jokingly asked if I was getting close to menopause. I really thought this was happening because I was turning 45 and thought maybe my period was ending. She told me I wasn't in menopause range and she tested me for hyperthyroidism which came back positive for Graves Disease.
I was sent to an Endocrinologist and was put on meds for Graves Disease but I was still bleeding. When I finally got to the gynecologist, who was beyond rude, he completely cut me off and was writing me a prescription for birth control pills! I told him I didn't need to regulate my period and that there obviously something else.
He did an exam and told me that my cervix felt enlarged and abnormal and he was sending me for further scans and the Pap results would take seven days. During this waiting period, I received notifications that my chart had new test results and I saw alarming things like "mass" "HPV" but I hadn't been contacted by the doctor yet. After a very long two weeks, I finally got back in to see him and he told me the bad news was that it was cervical cancer but the good news was that the Levine Cancer Institute was close and I would be in good hands. He told me to go to the window to make an appointment and he walked out. He didn't explain my results, nothing. He showed absolutely no compassion and he didn't even ask if I had any questions.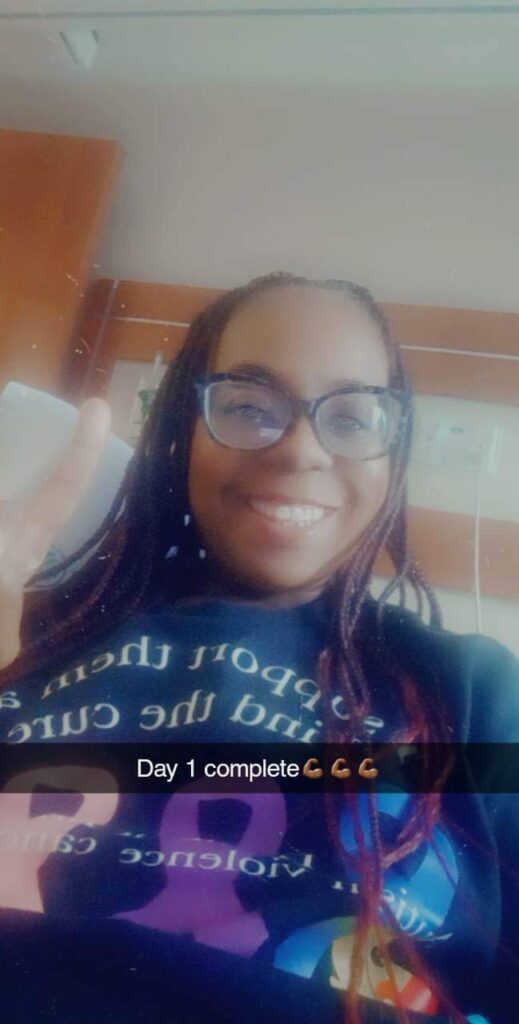 I got my appointment at the Levine Cancer Institute the very next day, which also happened to be my husband's birthday. I met my oncologist, Dr. Casablanca and she explained my results to me and told me she wanted to do a biopsy right then and there but when she did, it aggravated the "mass" and that started what would turn into the worst and longest 10 days of my life in the hospital.
It was confirmed that I had Stage II cervical cancer and I was devastated.
The time in the hospital was filled with constant blood transfusions and prodding and pricking for IVs. My arms were bruised from shoulder to wrist. They had to perform so many "packing" procedures (where they put meds on the end of gauze and shove it into your vagina) that I lost count. And eventually had to start my radiation because I wouldn't stop bleeding.
I was scared and confused and I never had time to fully grasp what was happening to me. Everything happened so fast my head was spinning. However, one thing was very clear, I had a lot to live for and whatever I had to do I was gonna do it.
I pushed everything else to the side and focused on my treatment plan which was five days of radiation a week for five weeks and five weeks of chemo, with five brachytherapy procedures. My mission in life has always been to make a difference. I have done that as a Coach, Mentor, Community Leader, Sorority Leader, and now as a One-on-One. My new mission is to bring awareness to this new world I was thrust into unexpectedly.
I wasn't educated enough on the HPV vaccine and was against it for my children but with my newfound knowledge, I'm advocating for it, especially for my girls. I also could not crumble or lose my faith because I wanna be here for my children, for my grandchildren and I want to make sure they are here too. I am NOT MY DIAGNOSIS and I plan to be the voice for those that can no longer speak.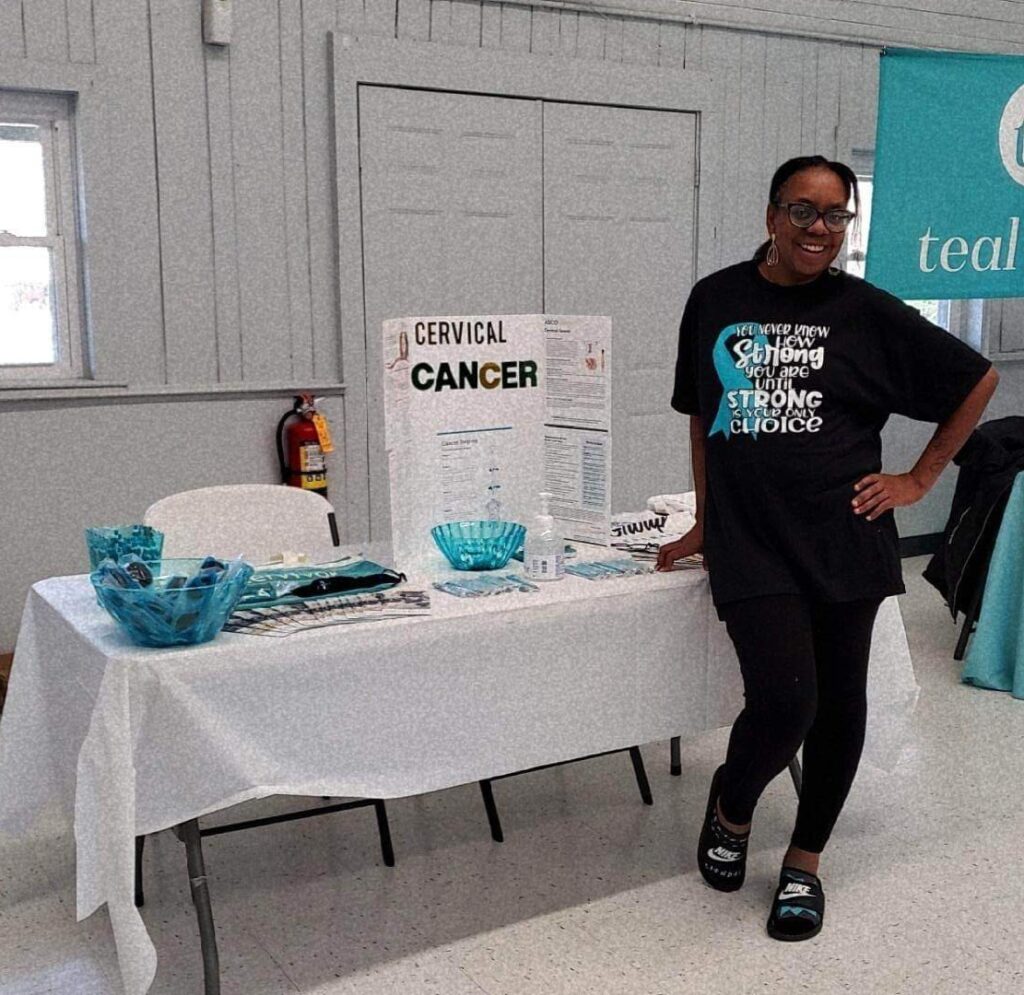 This year I held my first Health Fair/Pop Up Shop called "Get in Good With Your Health" to raise cervical health awareness in my community during Cervical Cancer Awareness Month. It was also to highlight other diseases and allow people to be able to take the steps to have a Healthier Mind, Body, and Spirit. The event was held on January 15, 2023, at Holly Oak Park in Shelby, NC. There were local vendors such as Hoppers Soul Food Truck, Carolyn's Paparazzi, as well as Charlotte Vendors like Sanaa Glam & Wellness and Teal Diva. Several other vendors traveled from Georgia and NJ to be a part of this event. There was information on nutritional health, cancer awareness and prevention, and Lupus awareness. We had a spiritual reader, a Zumba Instructor, and a Yoga Instructor too. It was a wellness party!
My husband and I are both passionate about our community and both have up-and-coming businesses and the event was sponsored by Group T.H.E.R.A.P.Y, which is my mentoring group, and Concrete Mentoring Corp which is my husband's group. It was attended by friends and family who had traveled from various states to show their support for me and my vision, as well as locals in our community. I was pleased with the turnout, especially with it being my first time doing something on this scale.
I had been pretty much in a fog during my treatments and I really hadn't felt like myself but that weekend, with so much love and support from my family and friends, I felt more like myself and it helped me to be able to push through. Really come out of the fog and focus on not only on healing but on my purpose.
My goal is to raise awareness not only in my community but everywhere. I started here in NC and next year I plan to hold this event in three cities: Richmond, New Jersey and each year add another city until eventually there is one held in all 50 states.
This is now my new mission, to be able to tell my story and educate others where I wasn't. It is important to be able to show people not to be afraid of the myths or stigmas surrounding this disease and how it is important to be proactive about our health and our bodies. I am NOT MY DIAGNOSIS and when I'm gone my legacy will have told my story and maybe have saved lives.
Linsday Gullatte-Lee is a self-published author, Cervivor community member and passionate advocate for cervical cancer prevention and awareness. She is on a mission to bring her Get Good with Your Health festival to every state. We're cheering you on, Lindsay!