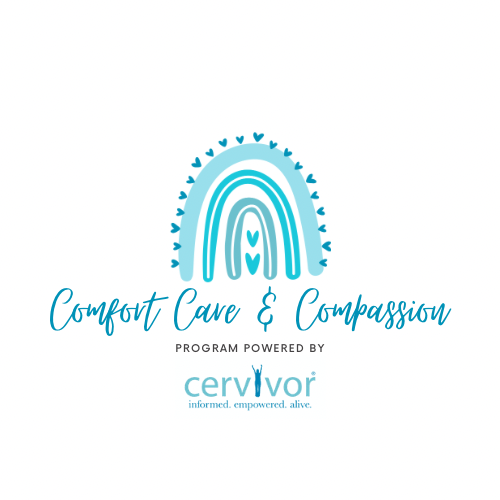 After navigating a global pandemic in 2020, we knew support was needed now more than ever. The Comfort Care & Compassion Program was developed and implemented as the newest addition in Cervivor's 2021 programming. The CCC Program provides those impacted by cervical cancer with a little extra something to help carry them through the day.
The program has three components:
1) A choice of cards with a handwritten message from survivors in our community to send a little extra support or to help celebrate exciting milestones.
2) A tote bag to support individuals facing a new or recurrent diagnosis and in active treatment for cervical cancer.
3) A custom Cervivor lapel pin to celebrate benchmark milestones.
The program was developed by a team of cervical cancer survivors who volunteered numerous hours. Get to know them in this behind-the-scenes look at The Comfort Care and Compassion Program.
Meet Emily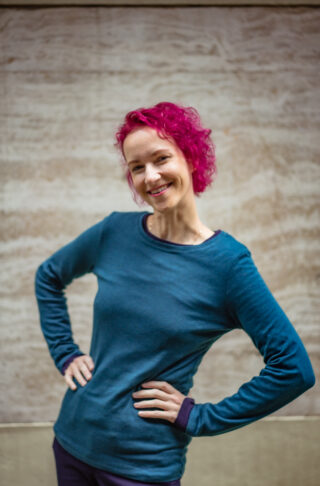 Emily Hoffman, a cervical cancer survivor, 2016 Cervivor School graduate, and Cervivor Ambassador located in Iowa is our Comfort Care & Compassion Card Chair. She says, "To me, the CCC Card Program means support so that no one in the Cervivor community feels alone. The greeting cards are a way for us to celebrate the milestones together and uplift each other in difficult times."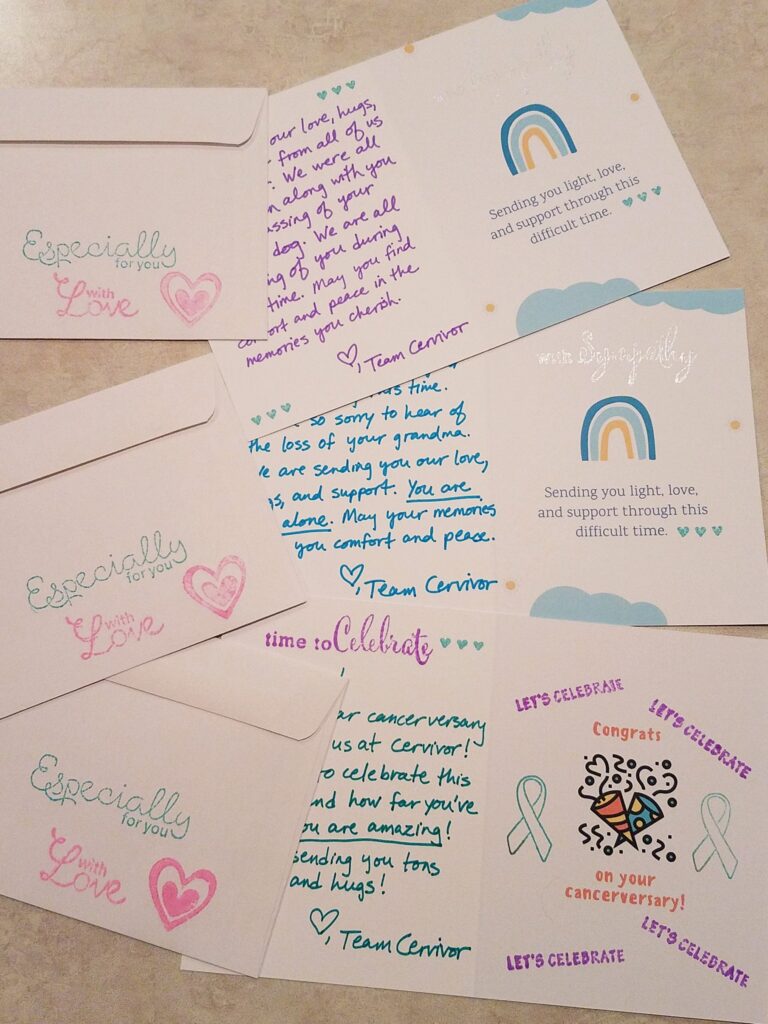 Emily adds, "I am proud of the success of the CCC Card Program so far. I am also thrilled to know that the cards mean as much to the recipients as they do to me when I write them. The program has already brought us closer as a community, as the cards remind us that we can lean on each other."
Meet Caroline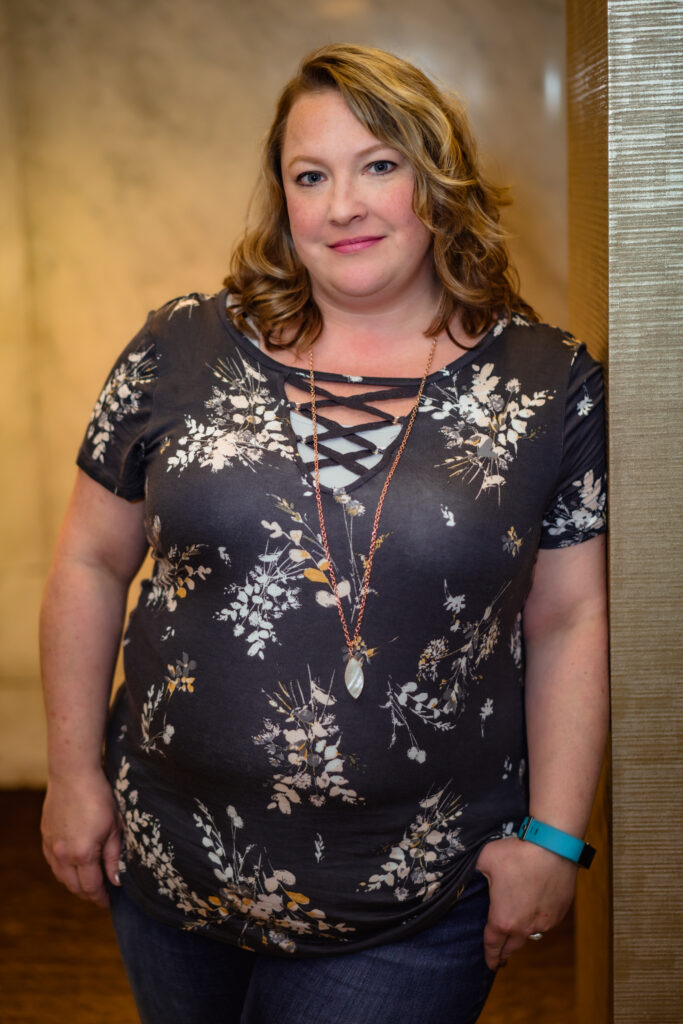 Caroline Swenson, a cervical cancer survivor, 2019 Cervivor School graduate, and Cervivor Ambassador located in Wisconsin, serves as the Comfort Care & Compassion Tote Bag Chair. She expresses, "I remember very clearly when I received my cervical cancer diagnosis. I was stunned and though I was surrounded by family and friends, I still felt alone. This is why I love the Comfort, Care, and Compassion Program powered by Cervivor! Being able to reach out on behalf of our community in a way that offers those on their journey a special little nudge, a nurturing gift, that says, "Hey, we are sorry you are going through this. You've got this and we are here to support you." fills my cup."
Meet Karen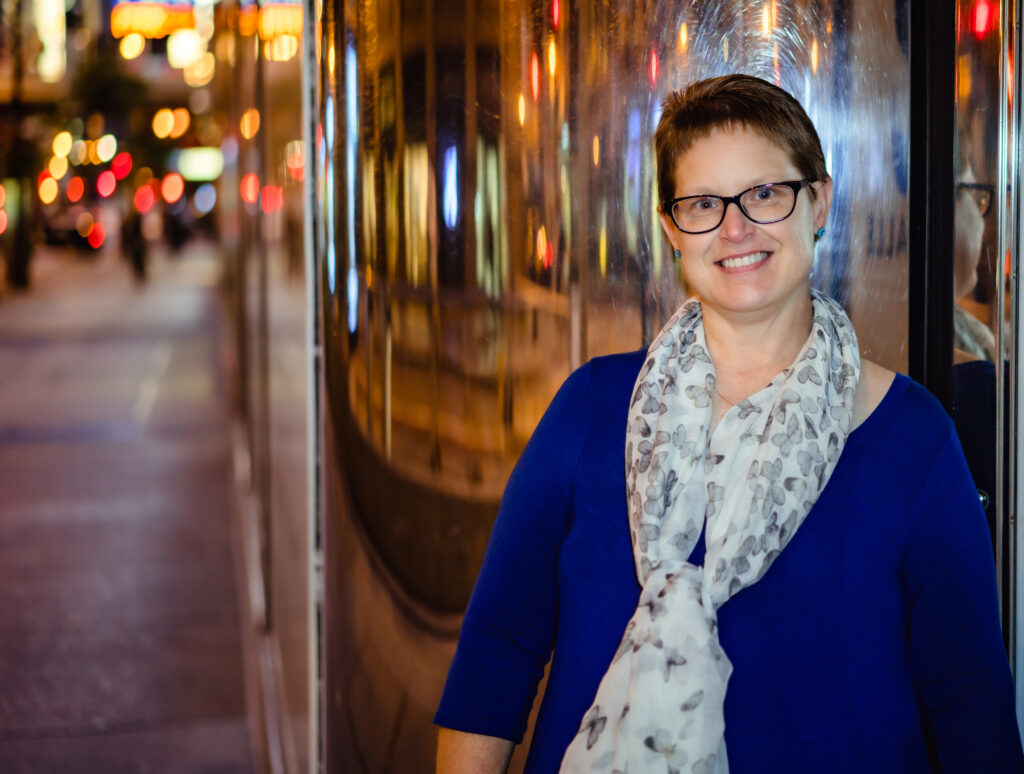 Karen North, a cervical cancer survivor, 2019 Cervivor School graduate, and Cervivor Ambassador located in Missouri, serves as a community admin. She spends a lot of time getting to know each and every one of our community members and Karen helps with referring members to receive something special from the CCC Program. Karen says, "Being an RN, I am passionate about knowing you are cared for. The Comfort Care & Compassion Program gives me the opportunity to give all 3 aspects of comfort, care, and compassion to those that might be feeling lost, alone, stressed, you name it. I enjoy seeing how our CCC program personally impacts our community."
Get Involved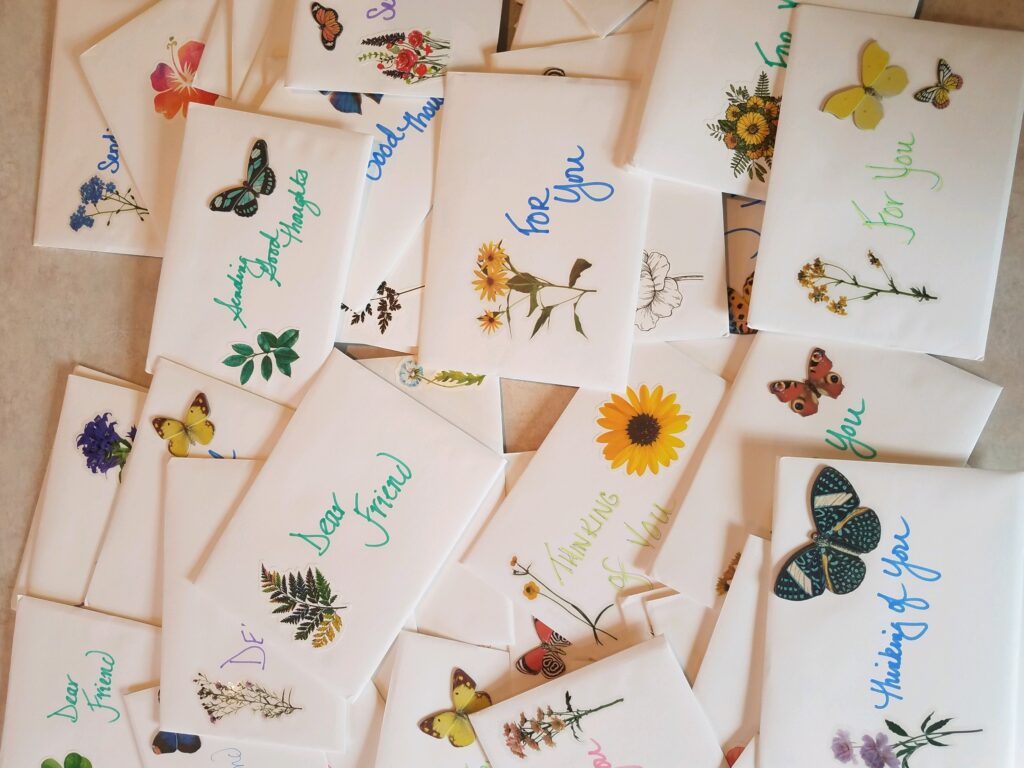 We have some truly incredible community partners that have volunteered to write and decorate cards for our community. Emily talks about what it felt like opening the box of cards, "When I first saw the greeting cards, I was blown away by the thoughtfulness put into them. The cards were beautiful. Each one contained an encouraging message that was handwritten in bright colors. I unexpectedly started to tear up as I read through them! I was so moved by the support of complete strangers for our community. Even though they weren't addressed to me, I felt like their encouraging words were meant for me. I felt loved and uplifted. So I'm excited to send these cards to our community over the coming months so that we all can feel the love and support they bring." 
Everybody has their own story and own diagnosis but there is a community of cervical cancer patients, survivors, and thrivers who are here to support you in any way they can because they "get it."
If you are interested in supporting this program please consider donating to Cervivor today. Volunteers may contact us for card or bag donations at [email protected]. And if you wish to give or receive a gift of comfort, click on the link here.