Cancer gives us a new vocabulary. Some words and phrases we embrace and some just do not resonate with us. We asked our Cervivor community to share a word or phrase that they find or found challenging to hear during and after cervical cancer treatment.
Just saying or writing the word 'cancer' hurts so much. ~ Marlene B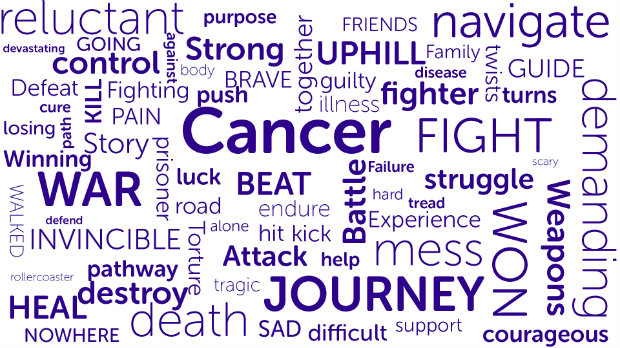 There was a resounding, collective group sigh at the phrase "new normal". Nothing about cancer is normal and the ability to go back or to regain any sense of BC (before cancer) normalcy is completely unattainable. Treatment may end, surgery is done but we live with life-long physical and emotional side effects that you just do not 'get over'. As Anne Z says, "Cancer is something I just have to deal with".
"You don't look sick"
This hosts a multitude of triggers for those living with both acute and chronic illness. It's taken me years to learn how to unpack (to recognize why I react) and respond authentically to this one… yet can still really hurt emotionally. To everyone here, you are seen… even if the illness or situation is not. ~ Lori S
"You look good"
Although I know it comes from a good place, I hate when people say 'you look good' knowing I don't look anything like I did before my third diagnosis. I am not sure why it bothers me so much but I always smile and say 'thanks'. I also cannot stand when people say, 'I don't know how you do it'… like what was I suppose to do, give up? I wish they could just simply say, 'I admire your strength'. ~ Jenn M
"You got this"
I think I prefer the statement, 'I've got you' as it comes across as more supportive. ~ Hilary B
"Preventable"
This word really stings for me. This is truly just my hang up because of my situation but I completely understand and agree with why it's used now. For me though, it gives me chills because it makes me feel like if I would've done something different I wouldn't have cancer. It just stings because the HPV vaccine wasn't an option for me (I'm too old) and I have had my screenings religiously every three years since I was 18. ~ Tammy S
"Only"
Like, it's 'only surgery' or it's 'only stage __'. It can come from anyone but it especially stings when it comes from fellow Cervivors. This cancer is life changing, brutal and leaves us with awful after effects no matter the stage or treatments. It makes you feel like you're viewed as a lesser cancer patient. ~ Elizabeth A
"Incurable"
I have put zero stock in this word since I first heard it. Fact is I'm living with cancer not dying from it and I have a lot of living left to do. ~ Christy C
"They lost their battle" or "They beat cancer"
I don't think it's a competition and no one wins or loses. I chose to say 'I'm surviving cancer.' ~ Carol L
I hate thinking about people losing… ~ Jessica S
When someone says this, it always makes me cringe. ~ Brooke W
"Move on"
Don't you think I know that already? It's a process that takes time to heal both physically and mentally. ~ Anna O
People who have maybe not gone through or cared for a loved one with cancer, often have well-intended but somewhat off-putting comments that many of us struggle to accept. We smile, accepting these ill-fitting words, as we know they come from a place of kindness and concern, but we hope that others can be more mindful when speaking to cancer patients and survivors. Or perhaps chose to say nothing and simply offer your hand to hold — this speaks volumes.